Ermou str., the premier shopping street of Athens, connects Syntagma sq. to Agion Asomaton sq. in Thission. Rows of shops, many of them high-end boutiques and also superstores are aligned on each side. This pedestrianised street, perpetually busy but especially so in the weekends, is a standard walk for tourists with its shops and landmarks, including the distinctive old Church of Panagia Kapnikarea.
The walk along Ermou leads to the Monastiraki sq., a colourful mishmash of tourists and natives enjoying ice-cream, strolling around, leisuring or watching the various impromptu music gigs and jugglers.
Monastiraki is named after a small church that is located at the corner of Athinas and Ermou, close to the Tzisdarakis Mosque that nowadays houses the Museum of Greek Ceramic Art. Several other monuments, such as the Roman Forum and the Library of Hadrian are also in close proximity to this area.
This district is home to an impressive flea market, which spreads along Adrianou str. and its side-streets. Shops here abound selling beads, shoes, clothes, memorabilia, souvenirs, and haggling is not uncommon.
Eolou str., another pedestrianised road with cafés and bars, many of which are scattered around the Agia Irini sq. (Map J8), offers a leisurely distraction from the hustle and bustle of the flea market.
Athinas str., which connects the Monastiraki and Omonia squares, is noted for its Central Market, where one can buy fresh fruit and vegetables, spices, fish and meat. Close to Omonia, one comes across the Athens City Hall in the Kotzia sq., a sprawling, stunning square that is the closest Athens has to a "Grand Place".
The nearby Psiri is a busy area of narrow streets, low, neoclassical buildings and numerous cafés serving traditional drinks such as ouzo, raki and rakomelo, and frequently offering live Greek music.
If you follow Ermou str. further to the east, you end up in the Agion Asomaton sq. Nearby there is pedestrianised Apostolou Pavlou st. an extension of Dionysiou Areopagitou st. This district is called Thissio: yet another busy area and a favourite among local youths, with many cafés and bars, as well as monuments, such as the Ancient Agora and Temple of Hephaestus.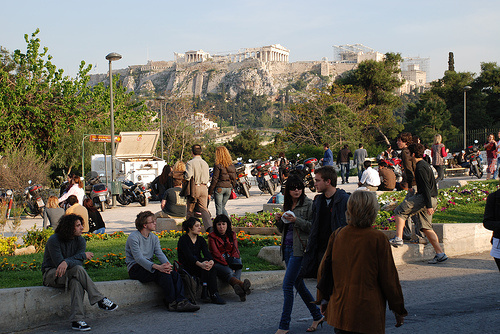 The final segment of the pedestrianised Ermou str. will lead the visitor to the areas of Kerameikos, which features the eponymous museum of funereal artifacts the nightlife scene of Gazi.
Nike shoes | Beyoncé Rocks Ripped Shirt & Pencil Skirt With Off-White x Nike Kicks – Latin-american-cam News