Rich with history and character, the capital of Cyclades has always been at the epicentre of economic developments. Its capital port, Ermoupoli, combines a cosmopolitan feel with the elegant calmness of a long-time tradition of wealth. During the 19th century Ermoupoli surpassed even the port of Piraeus in commercial importance.
The settlement history of the island begins in the Early Bronze Age and the Cycladic Civilization.
In modern history and because of its crucial position, Syros was known as a maritime way-point. In the 1821 Greek War of Idependance, a series of factors led to the island's neutrality.
After the Independence and the establishment of the modern Greek state, Syros had a spectacular economic growth. Ermoupoli, a major port with significant shipyards, was fast modernized. To this day, Ermoupoli has a special architectural interest due to the buildings designed at the time by famous architects, in the then fashionable neoclassical style. Such architectural landmarks include the City Hall (designed by the famous German architect Ernst Ziller), the theatre Apollon by the Italian architect Campo (a miniature version of La Scala in Milano), Miaoulis square and many more. The commercial activities included trade of silk, leather, fabrics and iron. The renowned Neorion shipyard, which is still operational, is to this day an important industrial monument. Medieval-style Ano Siros, located very close to Ermoupolis, is also an important tourist attraction.
Where to swim
The southern coast of Syros boasts the most popular beaches, and they are relatively different from one another, so they cover a wide range of tastes. Some pebbled, others sandy, yet they all share one common trait: crystal waters. By far the most organized Syros beaches are Galissas, Megas Gialos, Kini and Poseidonia, with advanced tourist infrastructure, namely beach bars, hotels and seaside tavernas. The island offers a comprehensive bus service but the most convenient way to visit every remote beach is to rent a car (we recommend Maistrali, www.maistraligroup.gr)
Where to stay
Ermoupoli, the capital, is a classic choice. If you want a place to stay for a unique holiday, try En Ermoupoli (+302281085789), only a few meters from the central square and the port and within walking distance of the historic centre of the city. The hotel is housed in a recently renovated neoclassical building of the last century. There is also Diogenis hotel, housed in an authentic 19th century building (+302281086301) and Paradise which is also on a very central spot (+302281083204).
In Vari, for a seaside experience: Kamelo Hotel (+302281061217) is very good value and has an almost private beach and a cosy restaurant - café Bolas. In Azolimnos try Anemelia (+302281063000), where you can relax in well-equipped studios and apartments. Don't forget to taste their homemade jam.
Where to eat & drink
In Ermoupoli: Mazi (+302281088811). Discover modern greek cuisine and spend hours in the restaurant's secret garden. In Kini, Dyo tzitzikia st' armirikia (+302281071151) is the ultimate greek tavern and serves fresh fish only by local fishermen, a perfect base for modern as well as traditional cuisine.
In Posidonia, a new arrival is Ono (+302281045099), a coastal complex which serves, among others, sushi prepared by Japanese chefs. Barola is a cafe-bar in the heart of the Cycladic capital combining interesting flavors and drinks with a pleasant, lively atmosphere (+302281087513). In Ermoupoli, Elliniko (+302281089248), Tarsanas (+302281077667). In Kini: Stou Zaloni (+302281071211). In Azolimnos: Stis Filomilas (+302281062088). Stou Kontou for tsipouro (+302281061020). The Corner Café (+302281301887, Ermoupoli) All day café, ideal for a healthy breakfast or a light lunch all made from organic and handmade products . Also, you can taste handmade pies, falafel with avocado or yogurt sauce. Don't miss out handmade bagel and have a look at the menu for the excellent vegan options. Taste delicious sweets such as brownie, cookies and lemon bar. A combination of Greek and American cuisine, Gran coffee from Korinthos, organic tsipouro from Limnos, organic wine and Greek beers. While you are enjoying your coffee or lunch read Greek or British
books.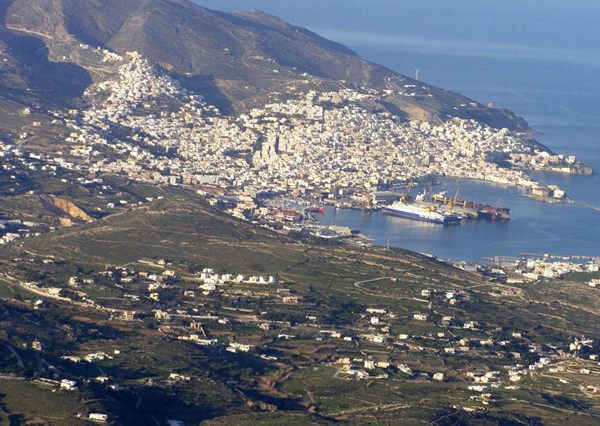 Municipality: 2281361000, 2281382118
Police Station: 2281096100
Port Authority: 2281088888
Hospital: 2281360500
latest Running | Air Jordan 1 High OG "University Blue" 2021 Release Info - Fitforhealth