Despite its small size, Ios is known worldwide, especially among the younger crowds, as it is a unique combination of wild fun, rare beauty (golden beaches, traditional villages etc.) and significant history since, according to recent findings, Ios was a strategic island during prehistoric times. The inhabitants on the other hand strongly support the theory that Homer is buried on their island.
What to see
If you are looking for an island where you never get bored, welcome! Here days and nights are parts of an ongoing party. If on the other you are looking for more alternative ways to escape every day life, here is where you will find the solution. Just by making a phone call to the local authorities, you will find out how to enjoy yourself walking along mountainous paths, observing wild nature or spend some quality time with the locals, taking care of their livestock, fishing or harvesting honey (agritourism). The ruins of the Medieval Castle built by Francis Crispo the 14th, the 12 windmills, Psathopyrgos and a hellenistic building at Plakoto are worth a visit. You can also visit Palaiokastro (byzantine and medieval castle) and Skarkos where you will find prehistoric settlements. At Tsaoukalaria you will find an open air theatre named after Odysseus Elytis, with a wonderful view overlooking the bay, one of the poet's favourite spots on the island. There are 365 larger and smaller churches of important cultural and historic interest. The difference lies with the details of the cross. The churches at Chora have marble crosses whereas all the others have stone ones. You can watch the best sunsets from the little church of Agios Nikolaos and Panagia Gremiotissa and if you find yourself there on August 15th be sure to go to the panigiri (festival). In the churches of Ai Giorgis at Gyalos, Ag. Eirini on the port, Ag. Ioannis at Pyrgos (on the ruins of an ancient temple dedicated to Apollo) and Ag. Ioannis at Kalamos, you will have the opportunity to marvel at the murals created by famous artists such as Mihail Damaskinos, Ioannis Skordilis, Theodoros Pavlaki, using natural materials (plants, beeswax, etc.)
Where to swim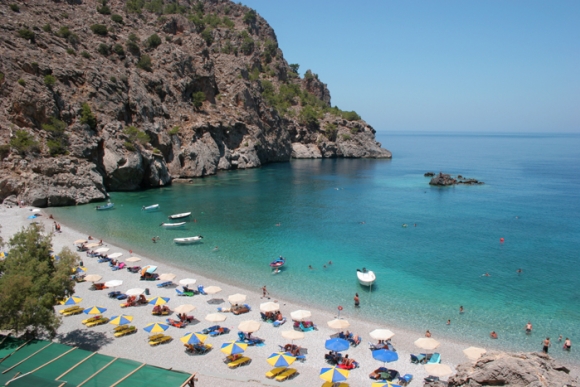 Gyalos is a fully equipped beach near the port with beautiful sand and tamarix trees. Mylopotas is a very busy beach with beach bars, tavernas and two camping sites. The waters there are a rare shade of blue and the beach is "23 carat gold". At Koumpara, a crystal clear beach near the port is where you can bathe without your bathing suit. Dreamy dives at Magganari, with its crystal clear waters, velvet like sand and private yachts sailing around. Agia Theodoti at Epano Kampos is the perfect spot for a romantic peaceful swim. Especially the sunset overlooking the island of Iraklia is extraordinary. Kalamos is where you will also find peace and quiet as well as a perfect diving spot. Less crowded are the beaches at Papa, Kampaki, Plakes, Neraki, Plakoto, Sapounohoma, Petalidi, Diamoudia, Klima, Valma, Kolitsani, Pikri nero and Tzamaria. The beach at the bay of Psathi is wild and suitable for surfers.
Where to stay
Camping at Mylopotas where you will find the famous bar Far Out (+30 91468) where the fun never stops day and night by the sea. If you prefer a hotel there is no problem at all. On the beach at Mylopotas you will find Ios Palace Hotel (+30 92000), with two swimming pools, rooms to please every taste overlooking the big Aegean blue plus a spa for ultimate relaxation. For those seeking an extraordinary experience they have suites with private pools available. Another option at Mylopotas is Levantes Luxury Resort (+30 92588) also providing luxury suites with private pools and panoramic views over the bay. Dionysos Resort Hotel (+30 91630-1-2, +30 91215), also at Mylopotas, is a five building complex situated in between gardens and very similar to paradise. If you need to really unwind go to Liostasi Hotel & Spa (+30 92140), at Chora. It is fully refurbished, fully cycladic and fully relaxing. At Kampos, you will find Brother's (+30 91508) where you can spend quiet, family holidays.
Where to eat
Go to Lord Byron (+30 92125) at Chora, for truly Mediterranean dishes. Beautiful fresh salads and traditional desserts are the highlights on the menu. At Chora and to be more specific, right across from the Town Hall you can find Agosto (+30 92020) a restaurant combining Aegean colours with Italian flavours and aromas, making it an ideal destination for Italian food lovers. For Greek Mediterranean cuisine based on local produce go to Pithari (+30 92440) on plateia Evangelismou. And as time goes by and you forget the taste of the dishes you will never forget the caring and professional service. At Rigani (+30 91721, +30 6932339722) you can have gourmet souvlaki, chicken cutlets with paprika and home made fries. Since so many young people visit the island, there surely are lots of fast food places serving souvlaki, sandwiches etc. If you find yourself at Gyalos you can enjoy coffee, snacks and home made desserts at Beach Bar Yalou (+30 91497). Charming views, music and excellent service will make you never want to leave the beach.
Nightlife
Nightlife is Ios' highlight. It is certain you will find something that suits you. All you need to know is that half of Chora is really bars. At Valsamo, in one of Chora's most beautiful alleys, the night sets off with soul, jazz and blues drinking the best cocktails. Classy atmosphere and cool chit chat till morning. At Barmacy and at Klik Cocktail bar cafe you will dance to funky, electronic and techno music all night long. At Koumpara beach you will find a beach-meze bar with the same name Koumpara (+30 91699) and the best sunset in Ios, next to the sea with mezes, tsipouro, ouzo as well as beers , drinks and surely coffee. There is a saying that Koumpara does not have customers but lovers... At Chora there is finally the Avantage with Greek music, flower throwing and dance till morning.
Area Code: +30 22860
Police: +30 91222
Port Authority: +30 91264
Town Hall: +30 22860 36400
First Aid: +30 22860 36000
Best Nike Sneakers | Air Jordan Shoes