For all its (partly justified) reputation as a city of concrete, Athens is not without its fair share of green oases. In fact, in the spring, its gardens are brimming with joy and life. Many of these gardens are "secret", akin to a modern fairy tale. Located in the heart of the city, in the patios and yards of museums, complete with their own quiet little cafés, they are waiting to be discovered by visitors eager to combine culture with leisure.
Garden of the Numismatic Museum of Athens
In the 800 sqm garden backyard, replicas of ancient statues mingle with plants of the Greek flora. The yard comes complete with a beautiful café that offers beverages, wine, sandwiches, salads, pizza and beer.
Panepistimiou 12, Syntagma (+30) 210 3632057, 210 3612834, 210 3612872
Garden of the Athens Concert Hall (Megaron)
An oasis of green in the heart of the city with many cultural events. From June to September visitors will enjoy its shade whilst listening to numerous famous Greek musicians.
Vasilissis Sofias & Kokali
Aethrion at Cycladic Art Museum
The café-restaurant of the Cycladic Art Museum houses a secret garden right in the centre of Athens. Ideal for coffee or tea, homemade cakes or tasty sandwiches, it offers a menu of both traditional Greek and international dishes.
Neofytou Douka 4, Kolonaki (+30) 210 7228321-3 Mon-Wed-Fri 10:00-17:00, Thu 10:00-20:00 Free WiFi
Benaki Museum Café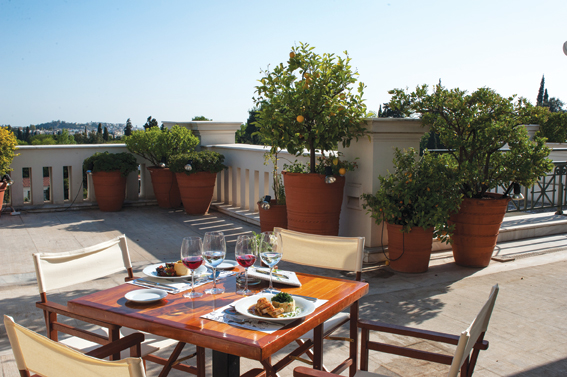 One of the most well-known, successful museum cafés of Athens, known for its beautiful bougainvilleas and its terrace with its truly remarkable view. A hangout spot for artists, archaeologists and tourists. Ideal to visit during sunset, but also on Thursday and Saturday evenings, when it stays open until late and offers a breathtaking view to the illuminated Acropolis.
Vasilissis Sofias & Koumpari 1, Kolonaki (+30) 210 3671000 Wed & Fri 21:00-17:00, Thu & Sat 09:00-24:00, Sun 09:00-16:00. Closed on Mon-Tue
Byzantine and Christian Museum Café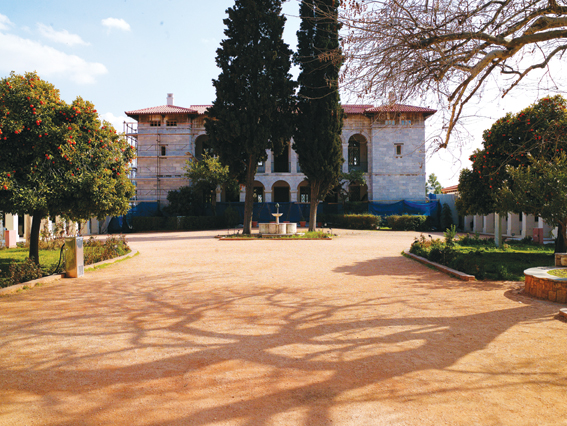 A ravishing garden with a footpath, large trees with ample shades and the glorious villa of the Duchess of Plakentia in its premises. Small tables on the sidewalk with a view to the villa and the Lyceum of Aristotle, an archaeological site newly opened to the public.
Vasilissis Sofias 22, Kolonaki (+30) 211 0120441 Tue-Sun 07:30-18:00
Café of the National and Archaelogical Museum
One of the must-see museums of Athens has its own beautiful, modern café in which you can enjoy coffee, beverages, salads and organic snacks.
Patission 44, Victoria (+30) 210 8834139 Mon-Sun: 09:00-18:00
Dexameni
One of the oldest hangouts of the Greek intellectuals who once sought inspiration underneath its large trees. Nowadays, it is a busy café, bustling with life from 10:00 until late in the night. Coffee, Greek mezedes, raki, pies, soups.
Dexamenis Sq,, Kolonaki (+30) 210 7224609
Fuga
A café located in the quiet, breezy garden of the Athens Concert Hall. It offers tasty dishes and holds frequent events
Vasilissis Sofias 7 & Kokkali, Kolonaki (+30) 210 7242979
National Garden Café
By far the largest garden of Athens, full of perennial trees, rare plants, flowers and lakes. In the heart of this lush greenery lies a serene small café, with echoes of Belle Epoque.
National Gardens, Syntagma (+30) 210 7232820 Open from 09:00 to sunset
Parko Eleftherias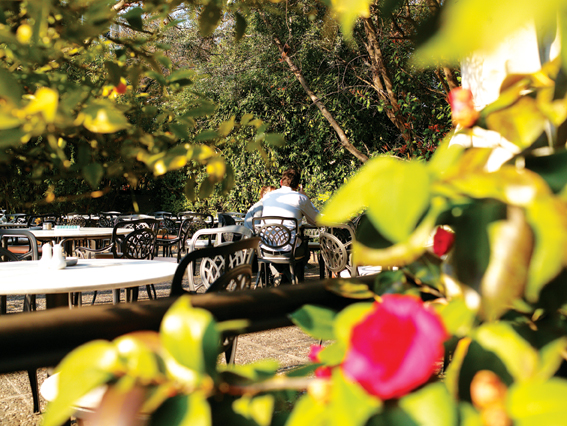 Named after the eponymous park, this romantic café-restaurant is open all week round from morning until late at night.
Vasilissis Sofias, Kolonaki (+30) 210 7228321-3