Discover Athens with your kids. There are plenty of activities to keep the little ones happy and busy. Adrenaline adventure and amusement parks, educational visits in museums and green parks for all ages. Make sure to dedicate a day trip for the top family experience: the Attica Zoological Park.
The Goulandris Museum of Natural History
A look at Earth's most spectacular and revealing secrets of survival. A museum that offers an extensive collection of zoological, botanical, entomological, geological and palaeontological exhibits with many interactive displays and audiovisual performances. Its ultra-modern facility, the Gaea Centre, showcases the natural sciences and the evolution of the planets. Its highlight is the Geosphere, a unique hemispherical dome-monitor of 5m of diametre and approximately 40 sqm of surface. It shows the rotating planet in 225,000 high resolution images. The exhibition is conceived and implemented in cooperation with the London Museum of Natural History.
Levidou 13, Kifissia (+30) 210 8015870 / Tue-Fri 09:00-14:30 / Sat 9:00-16:00/ Admission Fee: €6 / Concessions: €4 & €10 (combining both museums) €6
Copa Copana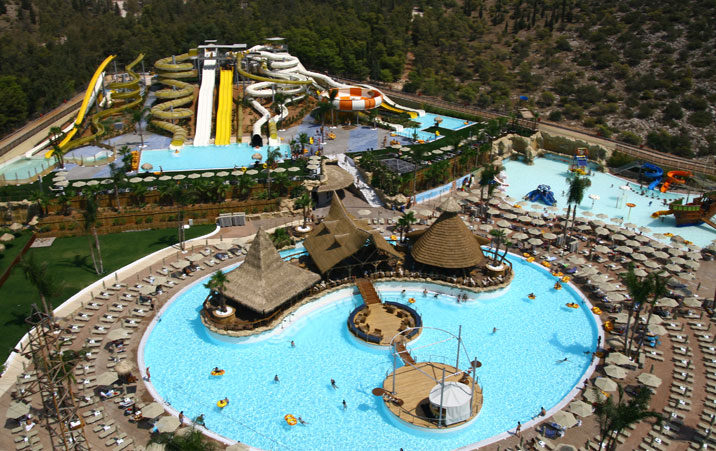 The coolest spot in Athens during the summer. Chill out at an amusement park just 15 minutes off the hectic city centre. A unique water theme park that features waterslide rides of every kind, swimming pools for all ages, impressive waterfalls and the Magic Town, Greece's biggest children's playground, complete with a pirate ship. Parents can cool off from the heat with refreshing cocktails while sunbathing. The deckchairs by the pool are free of charge and DJs play live later in the evening.
Athens-Korinthos Motorway, 12th km, Chaidari (+30) 210 5576006
Mon-Sun 10:00-19:30 (pools) / 10:00-18:00 (waterslides)/ Admission fee: €18 / Concessions: €14, €12 / Children 3 to 6 years old: €7 / Free admission: Children under 3 years old Access: Bus No A16, B16, 16, 845, 865, 866, 836, 801, X63 www.copacopanapark.com
Planetarium Eugenides Foundation
A state of the art planetarium. Astronomy lessons for kids and parents. Built in 2003, Athens's Planetarium is one of the largest and most advanced worldwide. Large format films and planetarium shows are projected on the 25-metre diametres dome. Its latest digital production on show "The mystery of Life" is the gripping story of the one of the most valid scientific theories of all time: the Theory of Evolution.
Sygrou 387 (+30) 210 9469641/ Wed-Fri 17:30-20:30 / Sat-Sun 10:30-20:30/ Admission fee: €6/ Concessions: €4 Access Bus No 126, A2, B2, from Akadimias & Omirou www.eugenidesfound.edu.gr
Attica Zoological Park
Take a walk on the wild side. More than two hundred bird species; a reptiles' section and representatives of the best the Greek fauna has to offer: wolves, bears and foxes. Attica Zoological Park opened initially as a Bird Park but now it hosts species from all continents: giraffes, zebras, antelopes and rarities such as snow leopards and white lions. TIP: Visit the meerkats. They are sociable and love to be photographed. Don't forget to check the Zoo's website for the summer weekly educational programmes and choose from subjects like the African Savannah, Greek Wild Life and other.
Yalou, Spata (+30) 210 6634724/ on-Sun 09:00-until sunset/ Admission fee: €15 Concessions: €11/ Access: Bus No 319 from Nomismatokopio or Doukissis Plakentias/ Local Bus No 320/ Bus stop: Spata City Hall www.atticapark.com/zoo
Hellenic Children's Museum
Learning can be fun! So parents and teachers say. But in this historic three-storey neoclassical building of Athens they actually mean it. A vast number of multi-thematic exhibits combining fun with learning aim to feed your children's imagination. It is the country's only multi-thematic, interactive museum specially designed for children. You will come across the Hellenic Children's Museum while wandering through the picturesque streets and alleys of Plaka.
Kidathinaion 14, Plaka (+30) 210 3312995 Tue-Fri 10:00-14:00
Sat -Sun 10:00 -15:00/ Free admission www.hcm.gr
Allou! Fan Park
The largest amusement park in Greece covering 40,000 sqm. The youngest ones love the fairytale land of Kidom with its most enchanting carousels and surprises. Things get tough for 12 to 99 year old kids at the Adrenaline Zone, the Shock Tower (a scream-inducing 40-metre fall experience) or at the House of Fear where terror resides permanently. Enjoy!
Kifisou &Petroy Ralli, Rentis (+30) 210 8092800)/ Mon-Fri 17:00-24:00 / Sat-Sun 10:00-01:00 Admission fee: Allou! Day Pass €15 Family Pass: two children family €25, three children family €35, four children family €45/ Access: Bus No B18, & trolley / Bus No2 from Omonia www.allou.gr
Hellenic Cosmos Cultural Center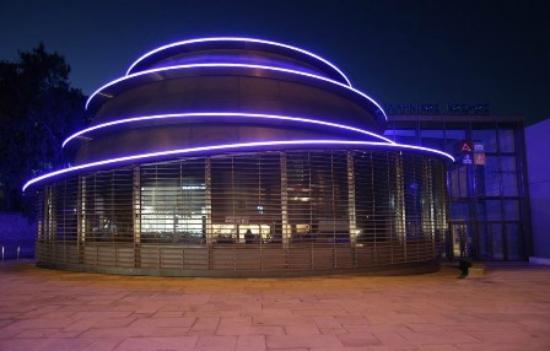 The words of history, technology and science under one roof that used to be an industrial complex. Hellenic Cosmos is a state of the art cultural centre for those looking for a highly educational experience. It hosts interactive exhibitions, educational programmes, conferences, theatrical performances, art events and a wide range of activities for all ages and interests. It is also home to Tholos, a dome-shaped theatre where you can currently take virtual tours of the Ancient Athenian Agora. Educational Fun for everyone.
Pireos 254 (+30) 212 2540000/ Mon-Thu 09:00-13:30 / Fri 9:00-20:00 / Sat 11:00-16:00 / Sun 10:00-18:00/ Admission fee: €6 ∞ccess: Bus No 049, from Omonia / Bus stop: Ifantiria www.hellenic-cosmos.gr
Ta Aidonakia
One of the oldest and most respected luna parks in Athens. Since 1981, it has become a cornerstone of children's entertainment. In a multiplex of 5000 sqm which can host up to 3,000 people, children and grown-ups alike can have the ride of their life. There are many different Aidonakia branches, including two in The Mall Athens and one in Escape Centre Ilion.
Kifisia 89& Dionissou 155, Marousi (+30) 210 6198724, 210 6196141/ Mon-Fri 16:00 -22:00 / Sat-Sun 10:00-22:00/ Admission fee: €15 (bracelet), €2,5 (chips)/ Access: Busses No 550, A7, A8, X14, X93 www.aidonakia.gr