Plaka is the "old town" of Athens. It is built in the area immediately surrounding the Hill of Acropolis and as such is the foremost tourist destination for whomever visits the capital. Small, narrow streets and low houses in neoclassical style comprise this almost unbearably beautiful, picturesque area that begs to be photographed. Plaka is almost entirely pedestrianised and thus not accessible by car.
Like the adjacent Monastiraki – the borders of the two neighbours are not entirely clear – Plaka is filled with small tourist shops selling memorabilia and souvenirs, as well as many tavernas (many of them quite pricey). Salesmen here are also friendly and open to bargaining.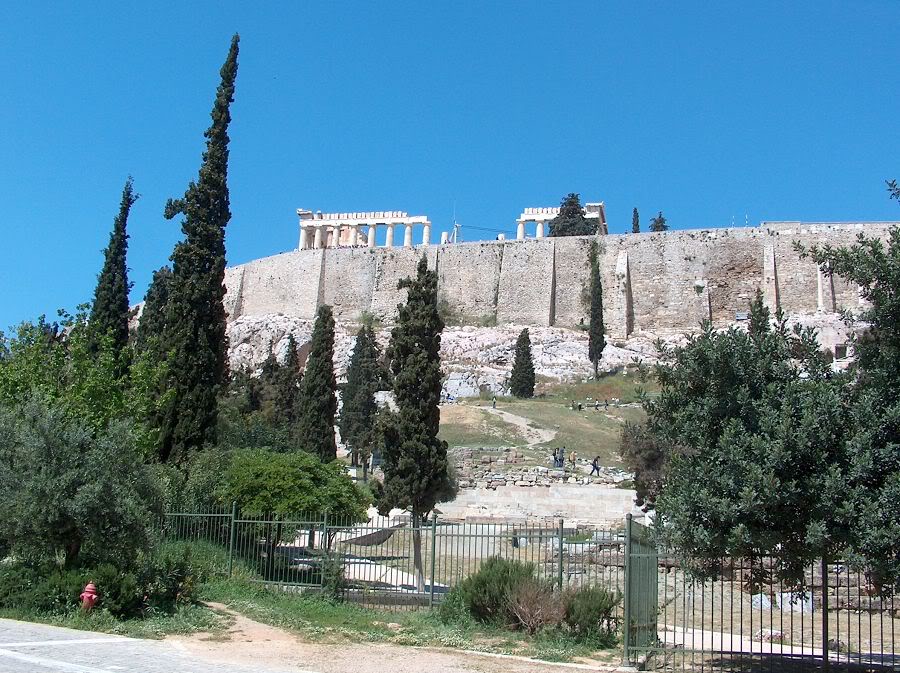 The neighbourhood of Makrigianni, with its many blocks of flats from the 60s (and some forgotten neoclassical treasures amongst them) has become packed with people ever since the New Acropolis Museum opened its doors here a few years back.
Anafiotika, an area higher up in Plaka, located right beneath the Acropolis, exudes the sense of being in an island – this breathtakingly beautiful neighbourhood was, after all, modelled after the island of Anafi. Many of the tiny, delapitated houses in the neighbourhood are still inhabited.
The Hill of Pnika, the place in which the Public Assembly of the People (demos) was held in the ancient years,provides an astounding view of the city and possibly the best view to Acropolis. Right next to Pnika, the Hill of Filopapou (Map P4), also known as Hill of the Nymphs, features a monument of the same name, plus a modern observatory.
The pedestrianised street of Dionysiou Areopagitou constitutes one of the best strolls in the city, with all the aforementioned hills, the Acropolis and the famous Odeon of Herodes Atticus to its left and right.
bridge media | Nike React Element 87