The Athenian House restaurant in Santorini Greece ventures towards its fourth season announcing its new partnership with one of the most internationally acclaimed Greek chefs. Christoforos Peskias, considered the pioneer of Greek new cuisine, has been cooking for 25 years, inspiring and teaching an entire generation of young chefs.
Born and raised in Cyprus, he studied business administration in Boston, where he discovered his passion for cooking. He started his culinary career in Athens in 1992, before joining his future mentor Charlie Trotter in Chicago in 1995. Two years later in Greece, he established his name at "Γεύσεις με Oνομασία Προελεύσεως", Rock 'n Roll and Balthazar, before traveling to Europe to work under the best chefs of the 20th century Ferran Adria, Marc Meneau and Joel Robuchon. His next work in Greece was an instant success: "48 The Restaurant", considered one of the best restaurants in Greece, ranked in the top 100 restaurants of the world for 2007 and 2008, immediately gave Peskias international recognition. In 2007, 2009 and 2010 he was also consecutively awarded "Chef of the year" by the Greek press. Over the past decade, Peskias has hosted and participated in numerous TV shows, performed hundreds of recipes, taught in several seminars and cooperated with many restaurants in Greece. Today he runs an exclusive boutique catering business and shares his time mostly between Athens, Mykonos and Cyprus.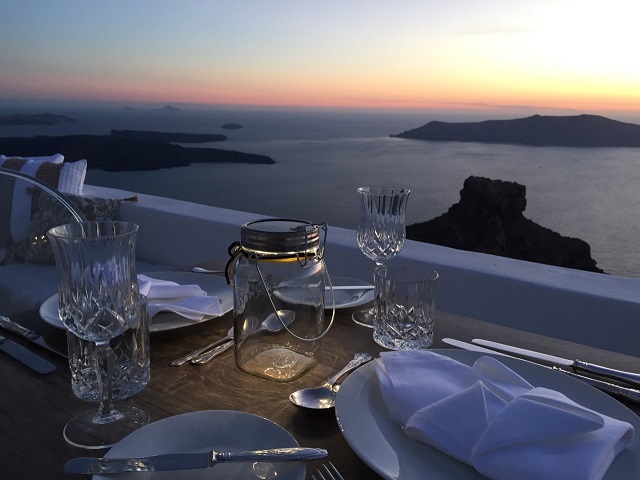 At The Athenian House, Peskias creates a menu inspired by his favorite cuisine, where sun, salt and mediterranean ingredients mingle into a combination of tastes and flavors. From his childhood roots in the Middle East, to his passion for Japanese and Asian cuisines, Peskias remains faithful to Greek tradition, as he seals The Athenian House dishes with his very own magical touch.
After three very successful seasons, The Athenian House promises a new amazing gastronomic journey, where summer lovers experience Greek new cuisine, in an original athenian vintage decor, on one the most breathtaking sunset spots on the Santorini Caldera.
Peskias' menu is supremely complemented by an exquisite wine pairing with Greek wines chosen by the pioneer oenologist Panos Zouboulis, including a special selection of Santorini vintages.
The multitalented mixologist Alexandros Gkikopoulos signs the exclusive list of drinks along with the Athenian Signature cocktails, all based on Greek spirits.
Trip Advisor Awards:
Excellence Award Winner 2019
Travellers' Choice Award Winner 2018 - Top 10 Fine Dining Restaurants in Greece
Travellers' Choice Award Winner 2017 - Top 10 Fine Dining Restaurants in Greece
Travelers' Choice awards are the highest honor TripAdvisor can give. Based on reviews and opinions from millions of travelers, this ranks The Athenian House in the top 1% of restaurants worldwide.
World Luxury Restaurant Awards:
Global Winner for Greek Cuisine 2018
Continent Winner for Most Romantic Atmosphere 2018
Country Winner for Luxury Scenic Setting 2018
Southern European Winner for Most Romantic Setting 2017
Luxury Lifestyle Awards 2019