editing: Isabelle Clayton, Katerina Martin
Alpino Cucina Italiana
A taste of Italy just meters from the Athenian coast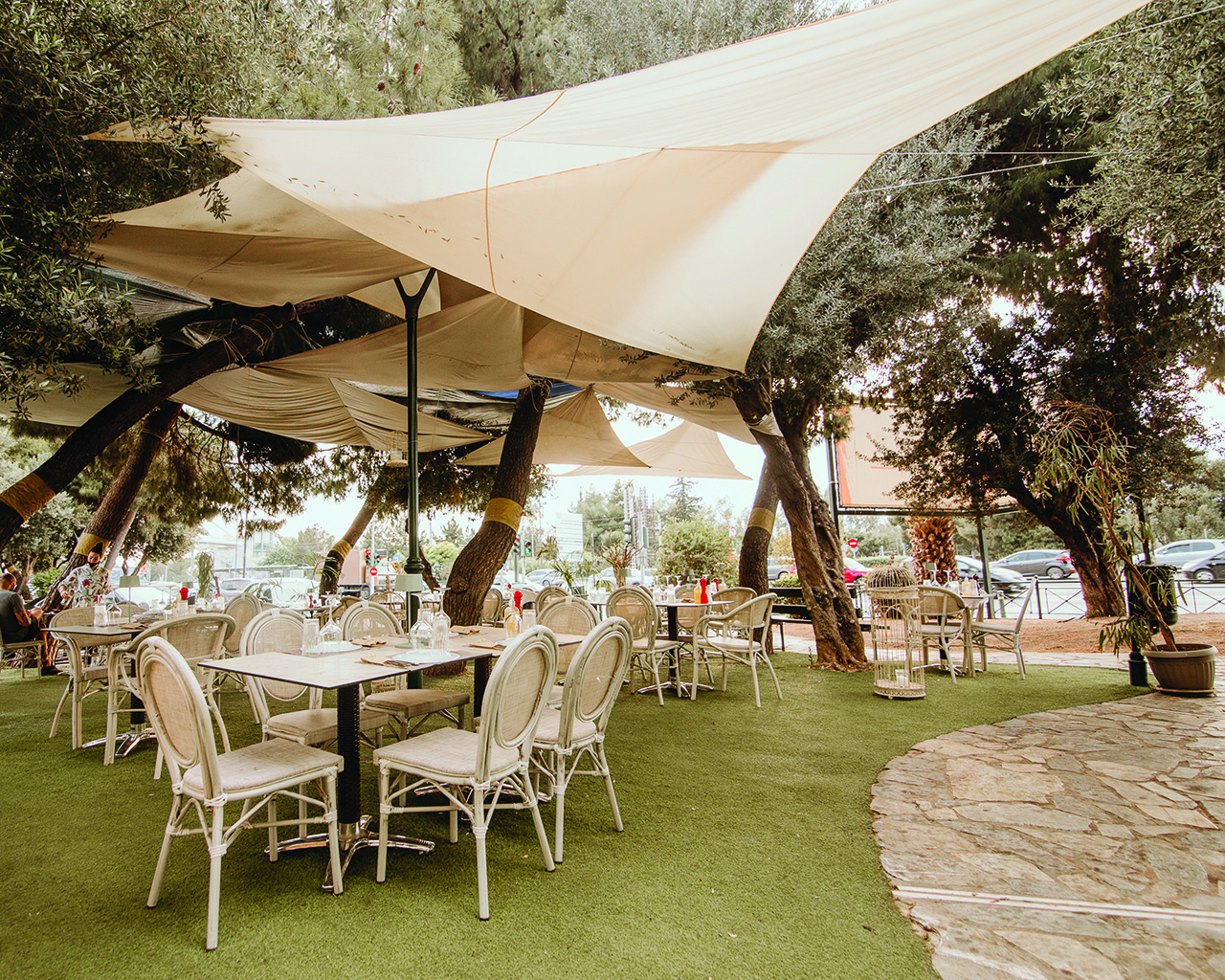 Since 1973, wicker chairs and tan-colored wooden tables have basked under the warm glow of Alpino Cucina Italiana's hanging glass lamps. Through the nights, glittering glasses have filled and emptied of their red and white liquors; silverware has continued to clatter to the tune of satisfied diners, scraping their plates to salvage the last few bites of their ambrosian meal. Outside, white tables and chairs peek through the greenery of the verdant garden, instilling the sense that one has escaped the bustling city and stumbled upon a tranquil countryside: an Elysian Field of sorts. At Alpino Cucina Italiana, luxury dishes highlight the authentic flavors of Italian cuisine. Sizzling pizzas have crispy, chewy crusts; risottos highlight savory meats, and fresh, salty seafood. On the renewed summer menu, be sure to order the watermelon salad, with spicy arugula and succulent capers, or the experimental linguine, dyed black with cuttlefish ink and decked out with a tuna ragout. Pair your meal with an Italian wine or a classic cocktail, and end on a sweet note with a traditional Italian dessert, like the soft Tiramisu or the smooth Panna Cotta. Alpino's dedication to the Italian gastronomic tradition is indeed legitimate, recognized by the Italian government itself through the Ospitalità seal. Savor the fresh quality of Alpino's flavors, soak in the cozy ambiance of its interior, the cool tranquility of its outdoor patio, and be transported oceans away, to your favorite 'restorante' in Italy.
4, Posidonos Av. & Naiadon str., 210 9840.855
Ark
Mouth-watering Mediterranean cuisine with views to make your jaw drop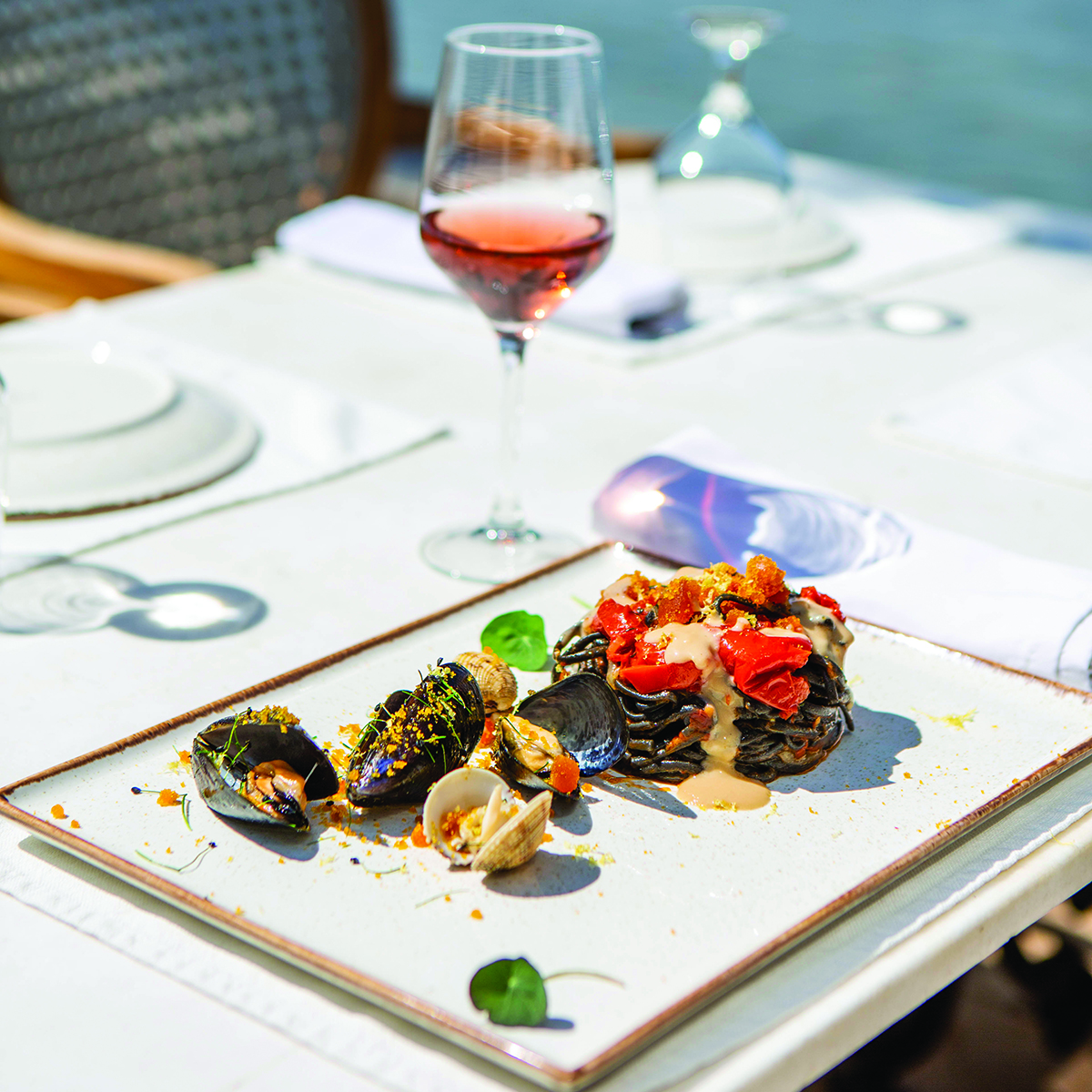 At Ark, tables offer diners front row seats to the peaceful rocking of boats and the saturated rays of Greek sunsets. Couples who often find themselves lost in conversation will find their gazes lost in the limitless horizon before them; in the tranquil abyss of the bright blue sea. A cafe by day and restaurant by night, Ark's impressive flavors can be enjoyed over a relaxing brunch or a romantic dinner. The cafe is renowned for its excellent selection of local coffee blends, as well as its one-of-a-kind house blend (also made from locally sourced coffee beans). Pair your cup of coffee with a traditional Greek pie, or with some pancakes drizzled in a sweet and sticky honey. At night, feast on the restaurant's renowned cuttlefish ink spaghetti, or the wood oven-baked sea bass filet. Meat-lovers will savor the Minoan black pork chop, and vegetarians will be shocked by the combination of spices, nuts, and fruits in the Ark Salad. Through Ark's menus, created by the famed chef Giannis Baxevanis, diners experience traditional Greek flavors in modern and innovative forms. The restaurant has been named one of the 34 best restaurants in Greece, and has been awarded the Greek Cuisine Award four times since 2016. Its location is unmatched; its flavors: unparalleled. Come to Ark once, and you'll find yourself compelled to return again and again.
2, Grigoriou Lambraki str., 210 8948.882
Athens Metro Mall
The Ultimate Shopping and Entertainment Hub in Agios Dimitrios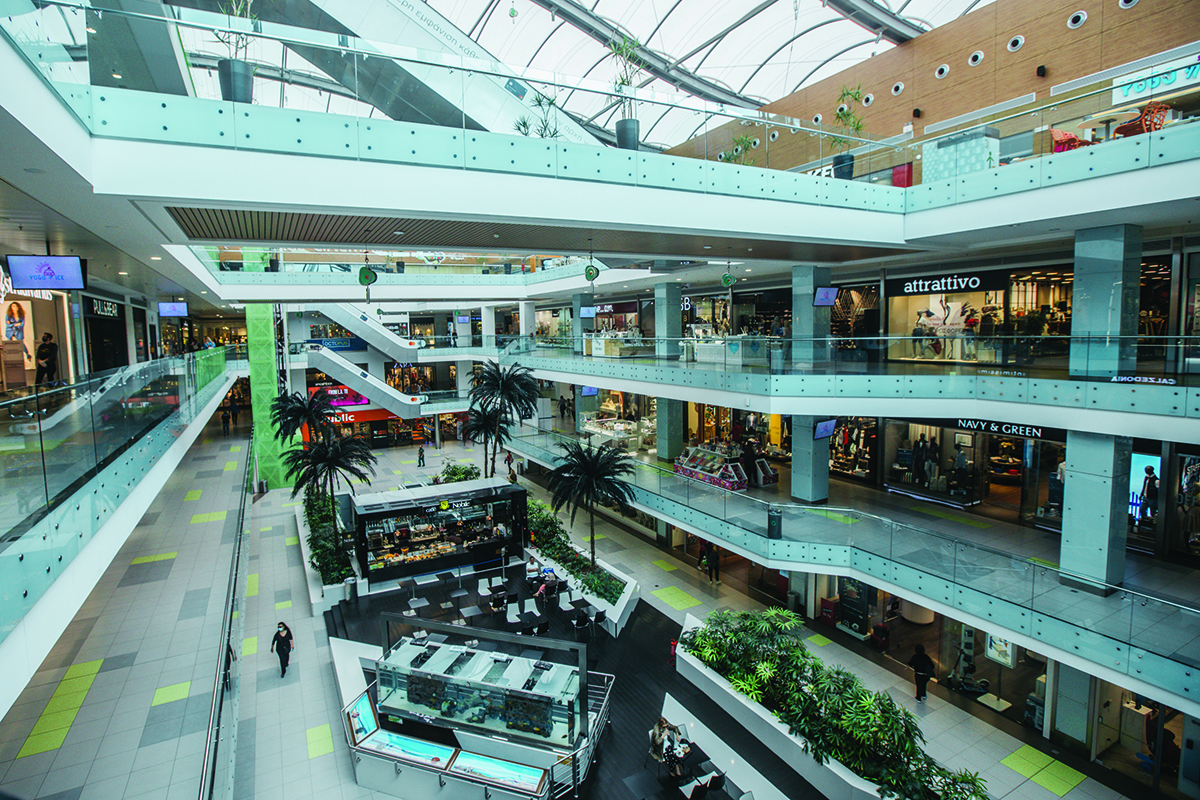 The pristine mecca for shopaholics, foodies, and movie buffs alike, this walking paradise is easily accessible from wherever you visit. The Athens Metro Mall is spotlessly clean, with an ambiance that marries serenity and luxury like the fabled malls of the metropolises abroad, has warm, welcoming, and well-trained staff at every corner, and has everything your mind can think of in terms of amenities. Let's talk shopping first: All your favorite brands have stores in Athens Metro Mall (Tommy Hilfiger, Adidas, Zara, H&M, to name a few), stocking all the new arrivals. At Athens Metro Mall, you will find more than 90 brands of clothing, footwear, and accessories, for women, men, and children, for formal or casual looks. What else is there on the five levels of Athens Metro Mall? Glad you asked. The Athens Metro Mall is home to 18 restaurants and cafes that make for a pleasant and sinfully delicious break from your shopping. Not only are there restaurants and cafes at every corner, but the Athens Metro Mall hosts an astounding five movie theaters showing all the new movies. The mall is absolutely welcoming for people with special needs, everywhere there are ramps for easy movement and access, and is planned to have disabled toilets on every floor. If you find yourself in need of cash, you will find an ATM. And while you are gallivanting around, you can even leave your car at the car wash where there is a 1,200-space car park, a children's playground, a daycare, a supermarket, first aid, and of course, free WiFi. With pristine cuisine, the best brands, and the newest cinematic masterpieces, the Athens Metro Mall has it all. It is truly the ultimate shopping, dining, and entertainment experience in the Southern Suburbs of Athens. Pro tip: For those with little ones, Open until July 17th, don't miss Playmobil Funpark, a world of imagination and color dedicated to Greek mythology, with the Argonautic Expedition, Odysseus, Cyclops, and all the other favorite Greek heroes and heroines coming to life at Athens Metro Mall!
276, Vouliagmenis Av., 210 9769.444
Bella Vespa
Innovative Italian cuisine in the southern suburbs of Athens.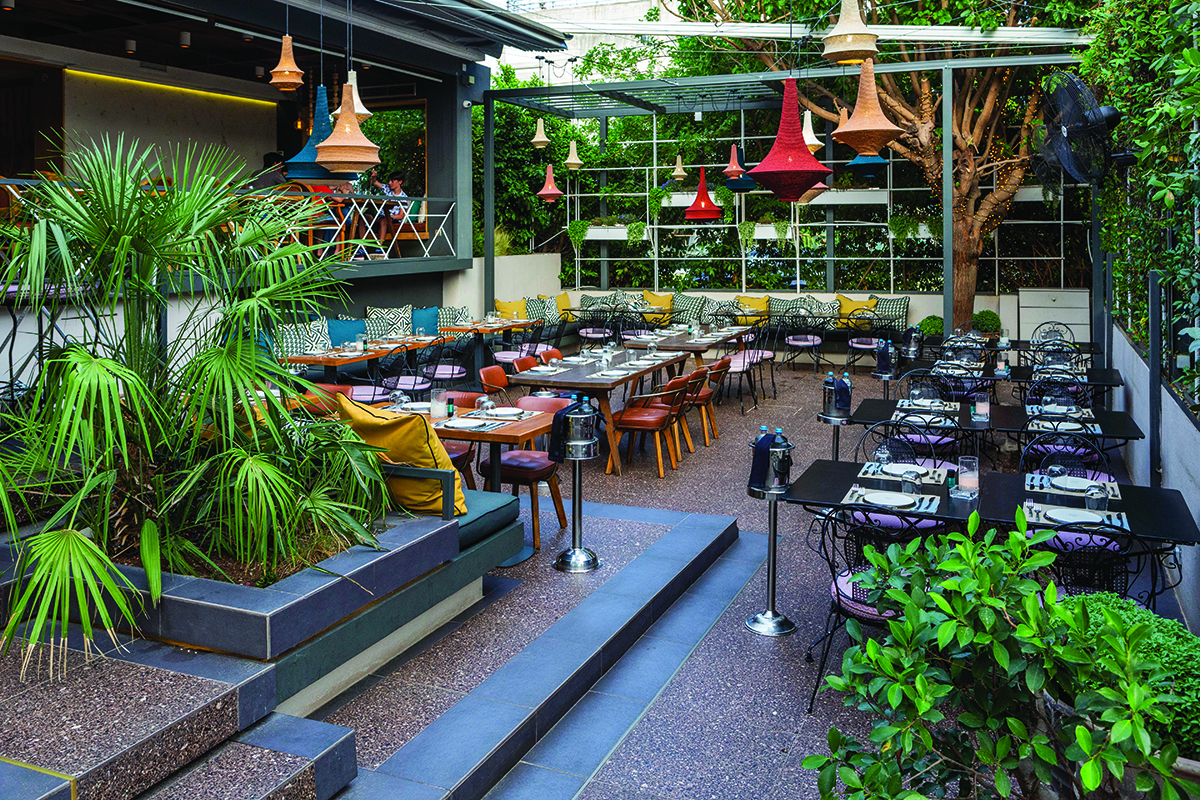 Outside Bella Vespa, cool winds rustle through verdant trees, and natural light floods across the newly renovated outdoor patio and bar. Within the restaurant, wooden tables rest atop shiny, wood-paneled floors, and hanging light-fixtures enrobe the rustic interior of Bella Vespa in their warm-toned light. Seated on red cushioned chairs or on stools at the bar, diners are compelled to forget, even if only for an instant, that they are in a restaurant, mistaking the snugness of their surroundings for the comfort of a home. Since its opening in 2015, Bella Vespa has been prized for its homely aesthetic and delectable fusion dishes, influenced primarily by the rich flavor palette of Italian cuisine. The restaurant's new menu, conceived by chef Pavlos Kyriakis, features the satisfying umami of homemade truffle ravioli, the freshness of sea bass ceviche, and the meatiness of the restaurant's prized beef carpaccio. For dishes with more authentic Italian flare, choose from numerous pizzas and pastas, or try the simple, but delectable, burrata salad. With your meal, indulge in a cool glass of wine from the restaurant's recently updated wine list, or sip on one (or two, or three…) signature cocktails. Pro Tip: Bella Vespa is a popular location in Athens for families with small children. The restaurant's playground, open on weekends, provides children with endless entertainment, and parents time to relax and enjoy a longer meal.

11, Cyprou str., 210 8982.880
Big Nick
The Hottest Spot in the South for Pizza and Burger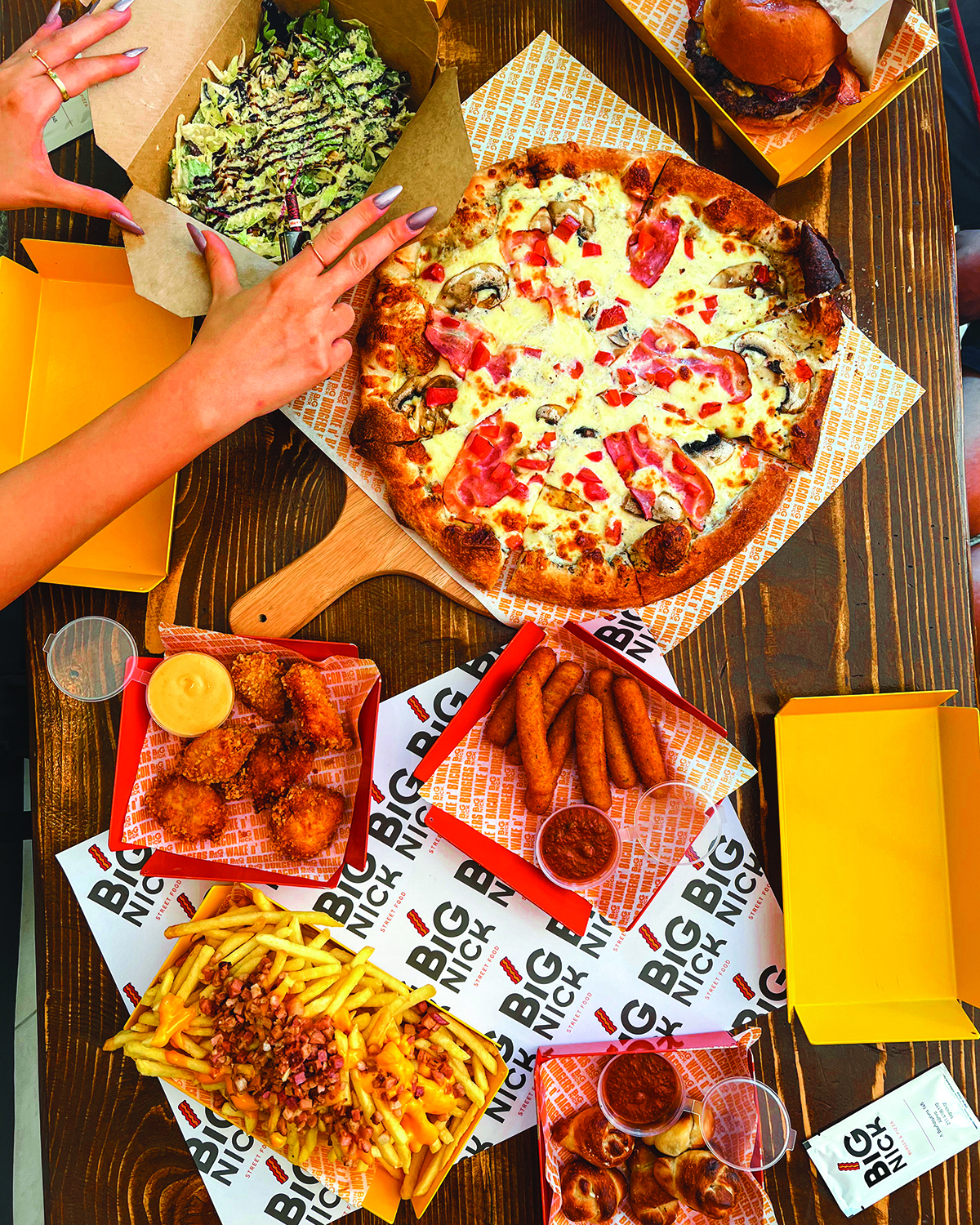 Relishing in the savory symphony of street food in the Southern Suburbs has a name, and it's called Big Nick. How many flavors can fit in a gallery of boho-chic beach decor, tasteful yet vibrant neon signs, and meticulously arranged plants? Only after you try the dangerously delicious double-decker burgers, the heavenly "hell" pizzas, and the crispy "Don't touch my fries" potatoes prepared by Big Nick, will you understand just how singularly sensational street food can be. Nikolas (the cook in question) and Dionysis (F&B) are two brothers with an infectious love for culinary creation, who started cooking pasta and pizza back in 2000 on the island of Zakynthos in the summer. The pizza stayed, but burgers were their secret passion. After 20 years of experience, Big Nick was born with an ethos rooted in creating everything from scratch with passion, culinary curiosity, and attention to detail. Big Nick also follows a devotion to sustainability and environmental consciousness, as the raw materials come from local Athenian suppliers to have a reduced carbon footprint. Feeling it necessary to practice and refine their craft year-round, the two brothers found the perfect gallery, nestled in the quaint suburb of Dafni, that would turn their dream of high-quality innovative street food into a reality. From the buttery brioche buns to the crispy crackling bacon, everything is handmade. A big bite is the first thing you will want to do as soon as you see the Chicka burger with breaded chicken, triple bacon, tomato, iceberg lettuce, pickles, parmesan, tartar sauce, and American cheese. As for the pizzas, though you really can't go wrong with any Big Nick creation, Pepperoni NY (with pepperoni, Big Nick cheese mixture, and tomato sauce) took the top spot on our list for best Big Nick Pizza. If you're in the market for something sweet, we recommend Big Nick's portion of cinnamon-sugar-coated Nutella churros. One bite and you will be transported into a world of gustatory goodness and sheer, decadent indulgence.

145, Vouliagmenis Av.
Cava Vegera
The Wine-Lover's Paradise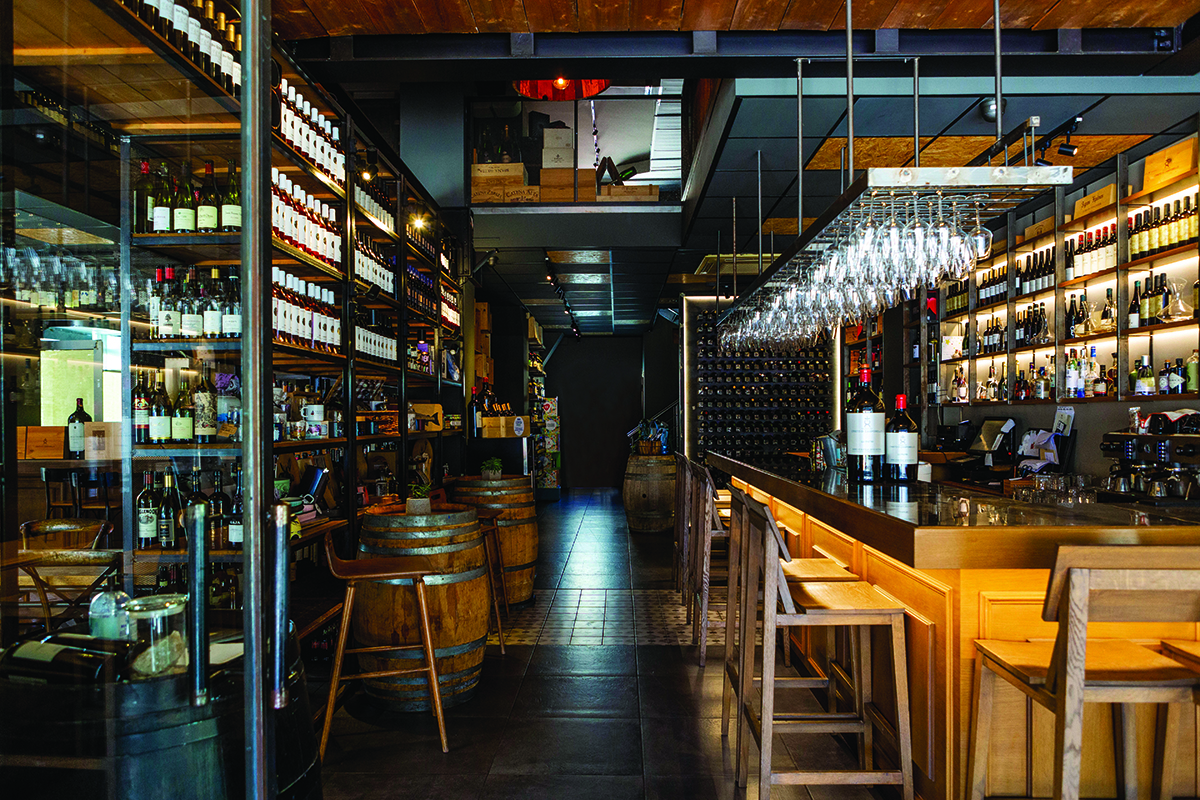 The ideal sanctuary for couples, friends, and professionals alike, Cava Vegera was born out of a love for good wine, great company, and refined taste. Initially starting as a wine cellar with fine varieties of wines from Greek and foreign vineyards, it quickly became the favorite hangout of wine lovers from all over Athens. In its warm, wood-clad, and cozy space, you can enjoy a glass (or bottle) of its vast array of wines and cocktails, accompanied by a carefully crafted charcuterie board, or a dish from its menu. The space is enveloped by ambient swells of soul, funk, jazz (almost always live music), and ambrosial aromas of spices and wines. The menu is constantly updated, from an assortment of pasta, bruschettas, pizzas, and freshly peppered meat cuts, as the inspiration for the dishes comes from an infusion of flavors and ideas from the owners' travels around the world. As a matter of fact, their sublime striploin steak, lustrously glazed with café-de-paris sauce was inspired by their trips to France. Today, Cava Vegera has over 2,500 labels of Greek and foreign vineyards, as well as one of the largest varieties of malt whiskeys. It has a limited circulation of small producers from all over the world, while also importing exclusive labels from France, Italy, Spain, Portugal, and America that are not to be found anywhere else in Greece. One of their most notable collaborations is with the Cristo di Campobello winery in Sicily, as well as the Ortega Ezquerro in Spain. Be sure to keep a look out for their labels, as Cristo di Campobello winery in Sicily, as well as the Ortega Ezquerro in Spain. Be sure to keep a look out for their labels, as Cristo di Campobello and Ortega Ezquerro are exclusive to Cava Vegera in Greece, and are not to be missed. Cava Vegera is also open early in the morning for you to shop the wine cellar, enjoy excellent coffee, or dine in for brunch.

130, Andrea Papandreou Av., 210 9646.635
Colonial
Delectable dishes in the green oasis of Glyfada's Golf Club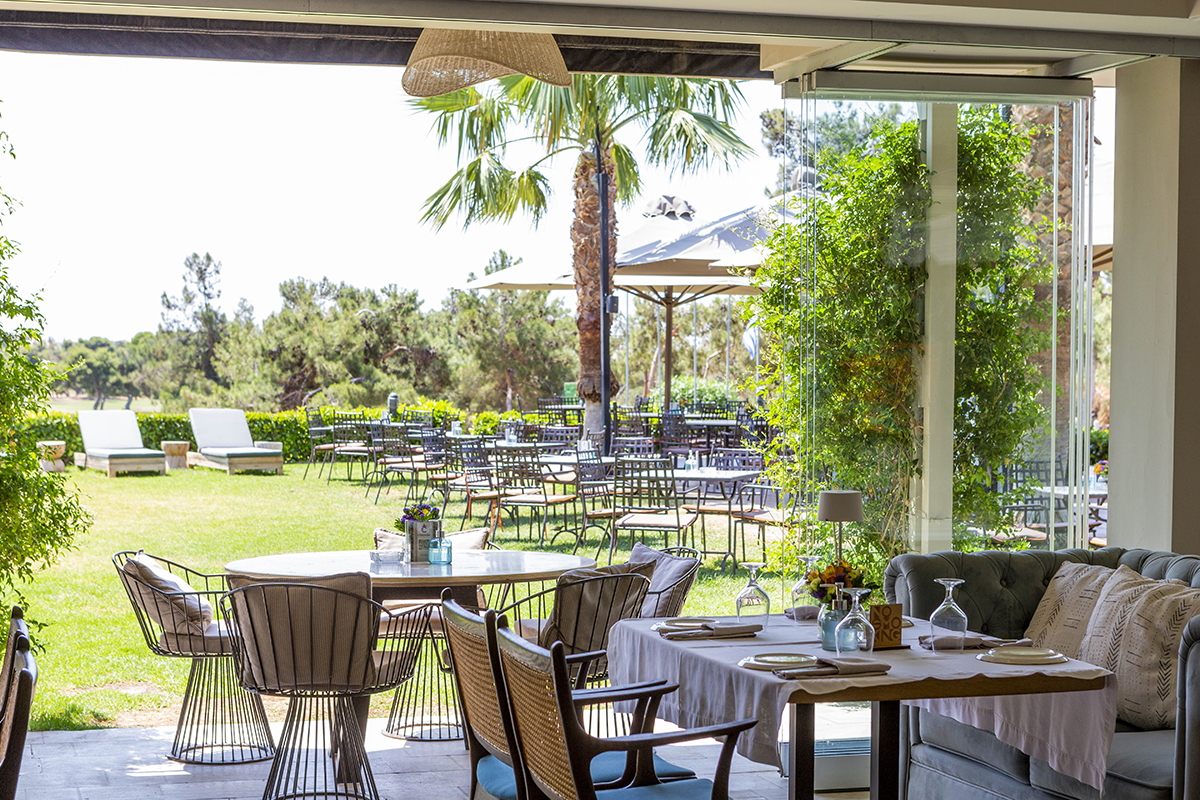 In Athens, green spaces are hard to come by, but at Colonial, verdant gardens and wooded areas proliferate the landscape. From the restaurant's wooden patio, watch as couples meander aimlessly through clean cut grass, or as children saunter energetically about the nearby playground. Colonial, where earthly aromas mingle with salty ocean air, is a perfect place to sit, relax, and enjoy a delectable meal. Colonial's menu is the product of a collaboration between award-winning chef Giannis Baxevanis and chef Nikos Mara, and features Mediterranean flavors and an array of locally sourced ingredients. At brunch, enjoy sandwiches on housemade bread or cheesy scrambled eggs made with fresh tomatoes and Greek feta. For a more upscale lunch or dinner, sample a variety of locally made cheeses as an appetizer, and let the grilled sea bream, topped with a glistening chili oil and saffron sauce, take its place as the star of your meal. To end on something sweet, feast on a heavenly piece of crispy baklava, or a refreshing plate of seasonal fruits. And of course, take advantage of Colonial's extensive wine list by pairing your meal with a glass (or two) of wine, or with some lush cocktails. Pro tip: Colonial is a great restaurant for families to dine, as it offers both a playground for small children and the option to order a half portion of any dish on the menu.

At the end of Constantinou Karamanli street, 210 3420.002
Don Corleone
Sinfully Sensational Wood-Fired Pizza made by The Godfather Himself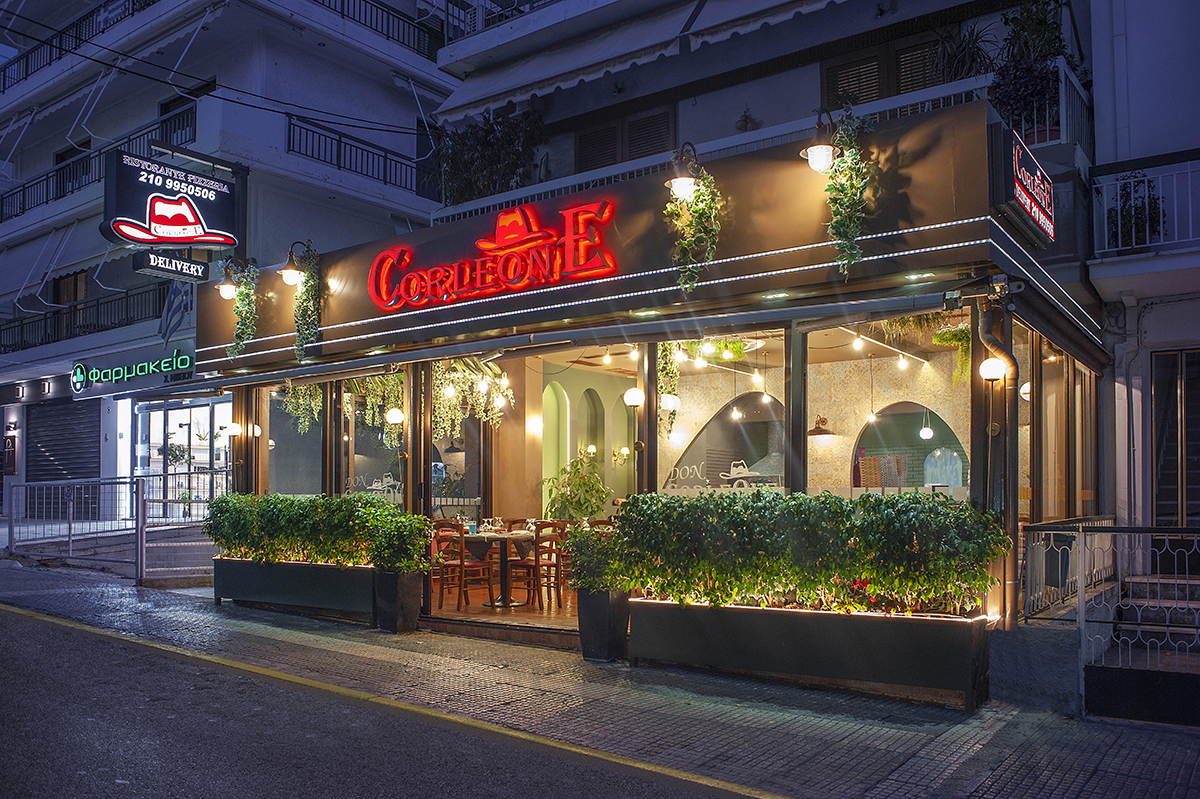 In typical Italian fashion, there's something for everyone and Don Corleone, and with a name straight from Coppola's timeless classic, you can't help but wonder about the secrets of taste that line the atmospheric walls and lead to such gustatory goodness. The secrets in question, you ask? A dedication to authentic Italian cuisine and a wood oven that adds a little extra mafioso magic. This, of course, is where Don Corleone's classically crispy pizzas are baked to perfection with their characteristically thin, handmade dough. If you're feeling adventurous, try the fabled "Corleone Special," packed to the brim with every Italian flavor in the book and a creative twist on a meat-lovers Pizza, this Don Corleone staple will transport you straight to the Amalfi coast. And, much like the Amalfi Coast, it's a little slice of heaven. Nothing rivals the singular sensation of a Don Corleone Pizza… nothing, that is, but the aroma of creamy, steamy pasta. From a fresh and light Primavera pasta to a chicken spaghetti worth writing home about, to their signature "Risotto Corleone," Don Corleone's pasta selection is as vast as it is scrumptious. With decadently melted cheese, fresh herbs, and tender chicken that melts in the mouth, Don Corleone's Risotto is not to be missed. For the carnivores out there, the all-time favorite stuffed burger will leave you breathless and wanting more. Top that off with a generous portion of house-made, marsala wine-infused Tiramisu, and you're in paradise.

6, Hesiodou str., 210 9950.506
En Plo
The dining experience that will make you feel truly lost 'at sea'...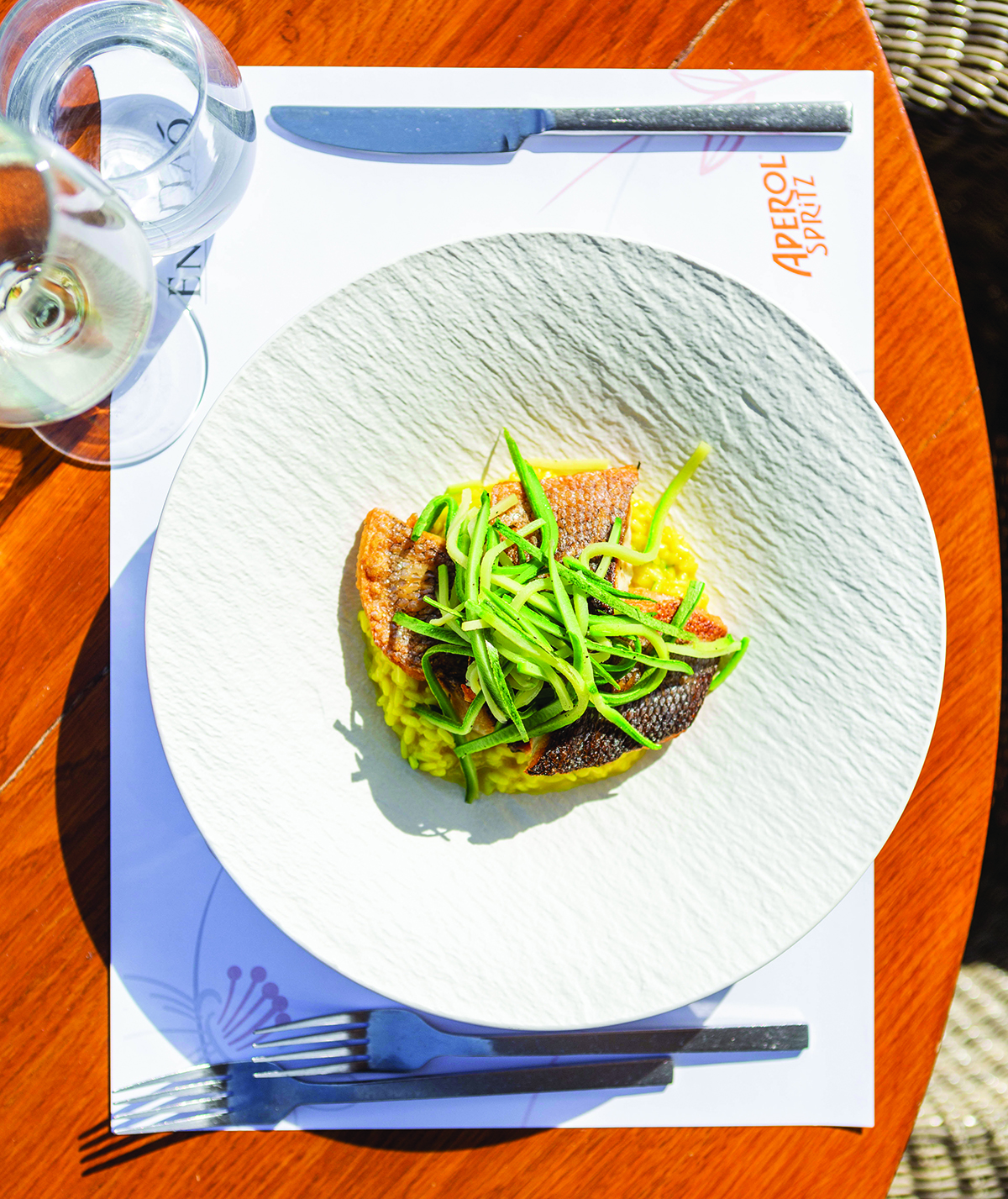 Whether you come to enjoy its extensive brunch menu, to sip on energizing coffee drinks in the mid-afternoon, or to indulge in innovative cocktails and Italian-inspired dishes over a romantic dinner, one thing remains constant at En Plo: its breathtaking view of the glistening Aegean. In the heart of posh, picturesque Vouliagmeni, the clean cut lines and white table cloths of the restaurant's dining spaces pair with a backdrop of sky and sea, procuring an idyllic image of Greece in blue and white hues. Feasting your eyes on sunset views, your palette on flavourful dishes, you are bound to feel at peace here, as if you are indeed adrift on the Aegean Sea. At En Plo, enjoy a menu featuring a unique blend of Mediterranean and Italian flavors. At brunch, choose from satisfying egg dishes, freshly made smoothies, or even, savory pizzas. And as the sun falls over the horizon, painting the sky with its tangerine rays, sip on house selected wines while savoring the restaurant's innovative flavors. Order the squash risotto, served with mussels and truffle, or the octopus, served with cuttlefish ink and sweet pieces of caramelized onion. Pro Tip: Although Vouliagmeni is popular among couples for a romantic weekend getaway, En Plo is not only a restaurant for couples. Come here with friends, family, and even, business partners.

4, Posidonos Av., 210 9671.770
Hams & Clams
An internationally-inspired oyster bar overlooking Marina Zeas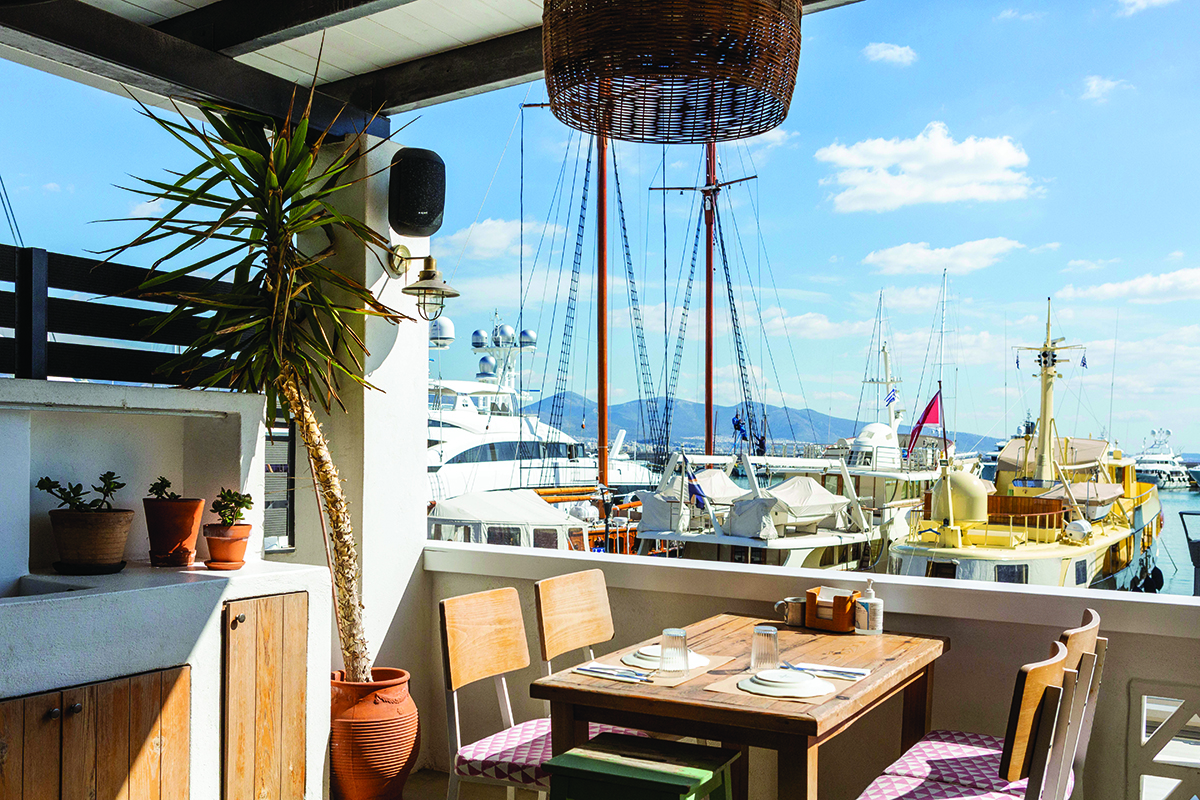 Hams & Clams takes you oceans away from Greece, to the eastern shores of the United States where oyster bars abound. In this quaint restaurant, white walls and light-stained wooden furniture compliment the white lacquer of the Marina's numerous docked boats. From the wood-paneled ceilings hang copper and wicker light fixtures, and around cushioned booths rest colorful throw pillows, completing the restaurant's cozy aesthetic. Out on the terrace, become enchanted by the image of boats rocking serenely on open water; seated within the restaurant, watch as dishes are prepared in real-time behind the open bar. Dine on Spanish-inspired chorizo or Jamon Iberico, or satisfy your seafood cravings with the clam linguine or spicy tuna tartar. And of course, coming to an oyster bar, you ought to top off your meal with fresh oysters and innovative signature cocktails, like the green 'Gin on Fire'. For vegetarians and vegans, or those simply not in the mood for seafood, try the Asian-inspired mushroom bowl, or the saucy, savory tomato pasta. At Hams & Clams, anyone can enjoy a casual meal without sacrificing their gustatory experience.

Marina Zeas, 210 4186.683
Lollobrigida
If Gina Lollobrigida were a restaurant, she would be this one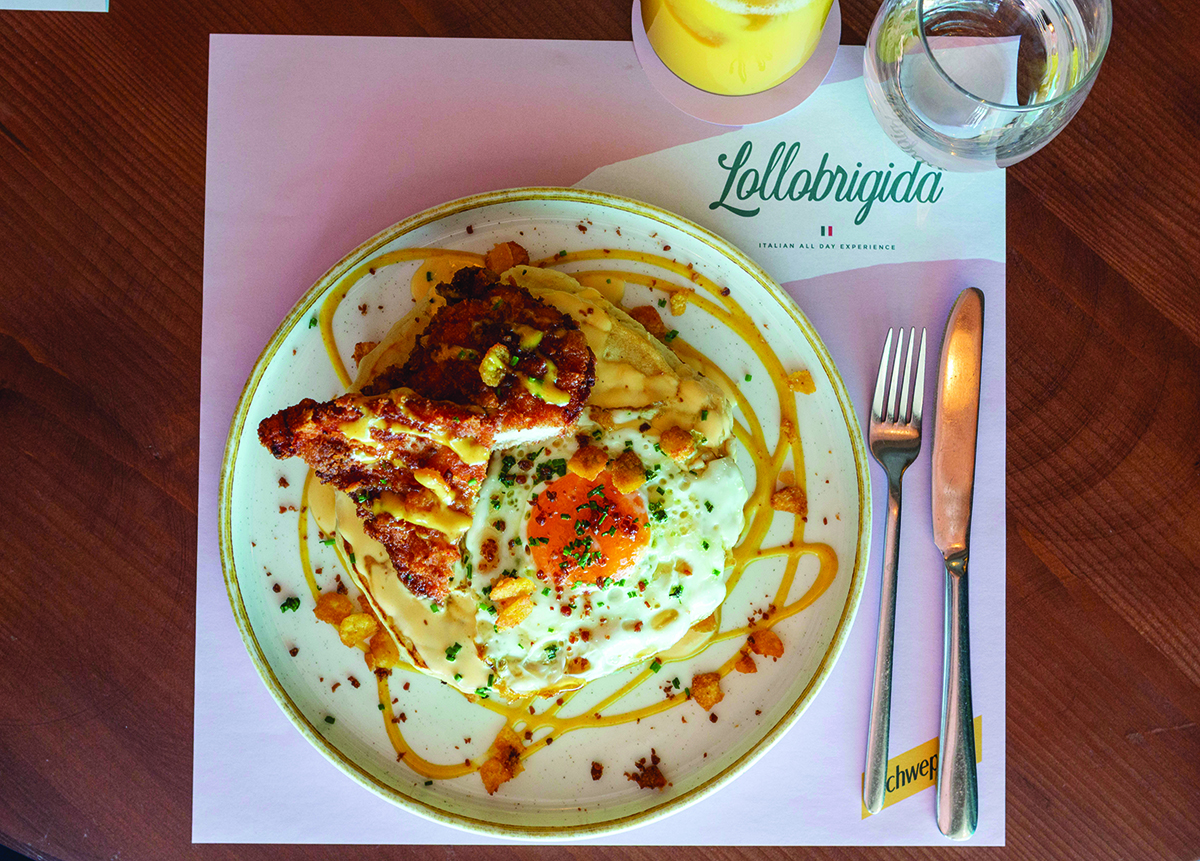 Outside, bountiful pink flowers embellish aquamarine awnings and cascade down the restaurant's quaint terrace. As your waiter shows you to your table, it's difficult not to marvel at the roses depicted in the stained glass ceilings, at the twinkling lights emanating from the hanging crystal chandelier, and at the dark blues and deep reds of the restaurant's velvet chairs and booths. Once you've taken your seat, smells of roasting pizza dough and fresh basil off of nearby tables hit your nostrils. You reach for the menu as quickly as you can and soon, your table too is filled with the tastes and smells of Italy. The iconic Italian actress, Gina Lollobrigida, seduces her viewers as the luxury restaurant Lollobrigida seduces its diners. If you come for brunch, feast on pancakes served with scrambled eggs and caramelized onions, or share a mouth-watering array of fried eggs, cheeses, meats, and pastries with friends by ordering the Colosseo Breakfast. Later on in the day, taste the richness of the shrimp risotto with truffle, or indulge in any of the restaurant's decadent pizzas, baked to order in wood-fired ovens. Dining on Italian-inspired meals within the luxe interior of Lollobrigida, you are sure to feel as if you have become a member of the exclusive Hollywood elite, even if only for a few hours.
Manos Haute Coiffure
The Ultimate Hair and Beauty Salon in the city
We are all unique and beautiful in our own way. But the first time you are at Manos Haute Coiffure when you first sit in the thoughtfully manicured waiting area and sink back into the serene realms of the plush armchairs, you feel just a little bit more unique. At Manos Haute Coiffure, you are spotlit. Everyone's attention is on you. In its 14 years of operation, personalization of service is at the forefront of its ethos; So if you're thinking of changing your hair color, looking for a different look for the upcoming holidays, or if you're just looking for that expert who will listen (and understand) all the changes you want to make, you are in the right place— and the right hands, for that matter! Having garnered mass media attention through his styling of high-profile Greek celebrities, Manos Haute Coiffure is famous throughout the Southern Suburbs for its impeccable professionalism and excellent artistic craft of its hairdressers. Hair expert and owner, Manos Kopsacheilis, and his team will offer you the haircut you've always wanted. Their methodology is simple, yet swiftly effective: it starts with a professional hair diagnosis. Then you will be recommended a treatment that perfectly suits your needs, while you enjoy the sublime sensation of their chilled homemade lemonade. The South's favorite hair salon ensures you will feel at home, but above all, it listens to your dream of change and turns that dream into reality. Each member of the experienced Manos Haute Coiffure team will spend enough time with you to understand exactly the change you want to make. Your wish is not only their command but their desire. At Manos Haute Coiffure, every guest is unique and the goal is just that: to highlight more than just hair— to highlight uniqueness.

43, Amfitritis str., 210 9842.151
Mira Me Athens
The Rooftop Restaurant with a Breathtaking view of the Acropolis
From the rooftop of the elegant boutique hotel in question, the magic of Athens is unveiled. It is not only the Temple of Hephaestus that is at the height of your table, or the Acropolis that rises before your eyes, illuminated in all its glory. It's also the streets you've walked for miles, the buildings of Ermou you've surely hurried past, all of which take on a completely different, captivating look from the elevation of Mira Me Athens. Just this year, this breathtakingly beautiful rooftop with a singularly awe-inducing view acquired an opening glass so that we can enjoy it all year round, from the heart of winter to the warm summer breeze. This is just the first of a series of delicious new things that await us this year at Mira Me Athens… Both in the kitchen and in the bar of Mira Me everything starts with the raw materials: seasonal fruits and vegetables from selected farms, vegetable gardens and small producers, and Greek microbreweries, all with an unswerving devotion to quality. With these impeccable raw materials in his hands, executive chef Aris Roussos has created a deeply delicious Mediterranean menu, which is made even more interesting thanks to the Asian touches masterfully created by Head Chef Grigoris Boniakos and his team. So you'll try a stunning fava bean with sundried tomato bisque and wild mushroom sauce, fresh sourdough tartare with mango, citrus, and passion fruits, handmade linguine with scallops and sea urchin, as well as a sensational Iberico pork topped with textured carrot and a tangy citrus-flavored sauce that melts in the mouth with every bite. The food at Mira Me is an occasion that merits the accompaniment of an exquisite wine label. The well-known, award-winning sommelier Aris Sklavenitis has done an excellent job creating a wine list with all of the best Greek wineries that every wine lover should know. You can come to this magical terrace just for a drink or for one of the signature cocktails of experienced bartenders. And of course, let's not forget Mira Me's bustling brunch (served daily 10:00-15:00), extremely rich and delicious, just as it should be. Yes, this rooftop has it all. For that and the way you look at it, it becomes your home. You can't do otherwise...
118, Ermou str., 215 2151930
Nakama Casual Sushi Bar
Greeks' favorite sushi spot, now in Glyfada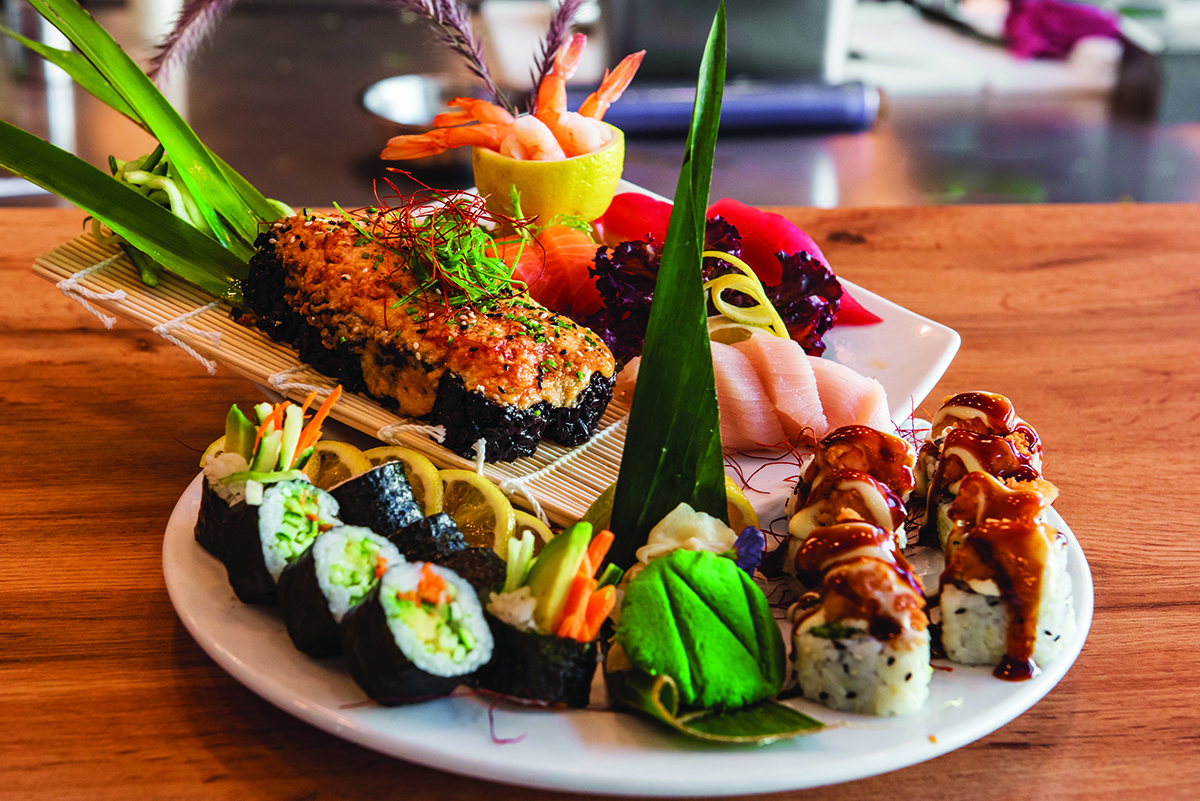 After great success at its locations in Kolonaki and Nea Smyrni, Nakama is extending its scrumptious dishes to an even wider audience, opening a new restaurant in the posh neighborhood of Glyfada. The new location will not be open for sit-down dining until the end of the summer, however, Nakama is not making the southern suburbs of Athens wait to savor the excellent quality and succulent flavors of its menu. Through online delivery or in-person take-away services, satisfy all of your sushi cravings from the comfort of your own home. Order the mouth-watering Forbidden roll, made with black rice, salmon, crab, and spicy mayonnaise, or the aesthetic Flamingo roll, filled with scorched sea bass, avocado, and cucumber, and topped with a sprinkle of turmeric and chili. Sing Oh La La as you crunch on Nakama's famed salmon tempura roll, and imagine the red sun rising over the Mediterranean horizon as you enjoy the smokey, spicy Sunrise roll, topped with fresh lemon zest. If sushi isn't your fancy, choose from a variety of savory noodle dishes, salads, and bao buns. Satisfying vegetable sushi rolls and cozy tofu-filled bao buns are also available for vegetarian and vegan diners.
118, Gounari str., 210 9600.996
Oma Sushi Bar
Cozy corner sushi bar serving fresh Greek fish with a Japanese flare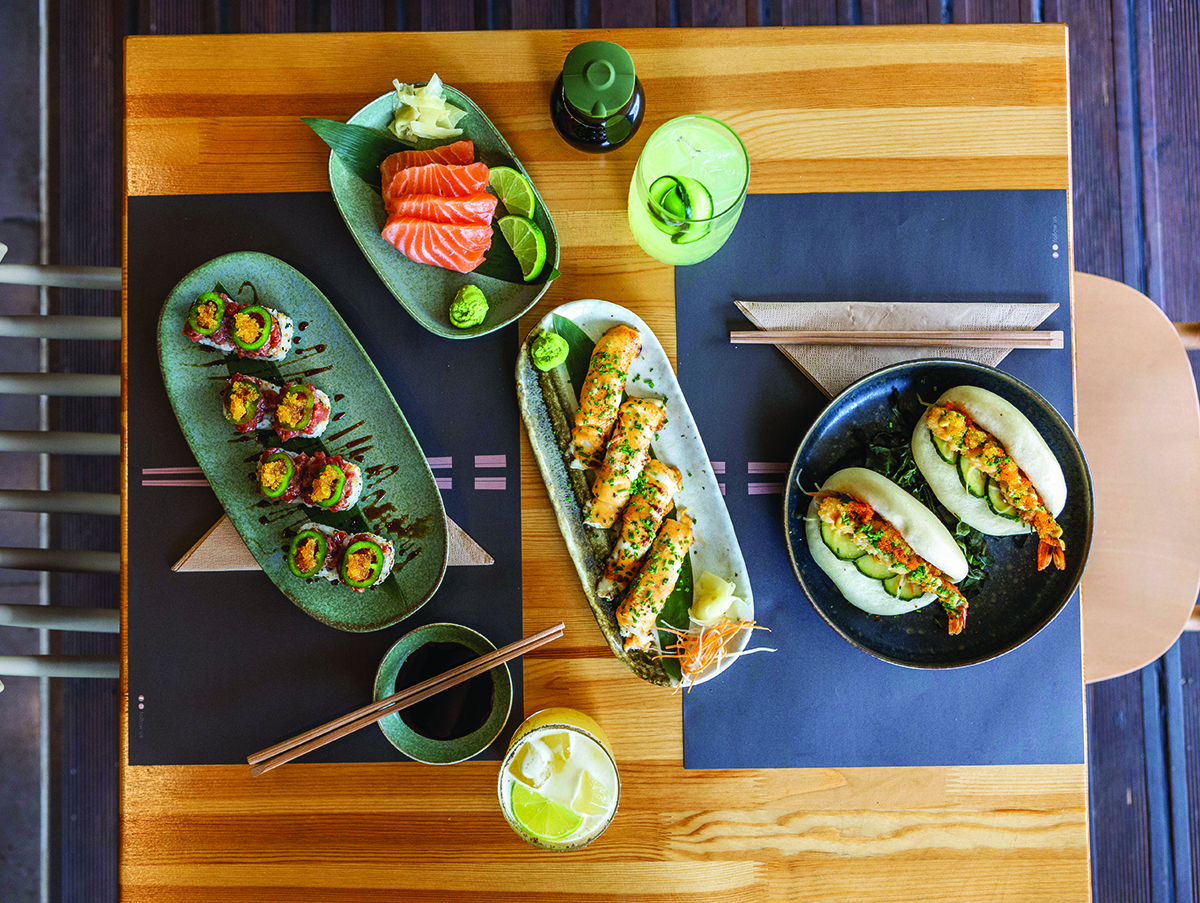 A small, warmly-lit restaurant on the corner of Andrea Papandreoi and Ioanninon, Oma Sushi Bar has made a name for its unassuming, intimate vibe and its beautifully plated, delicious dishes. The menu, signed by Vangelis Leousis, brilliantly combines a diversity of flavors and textures in each dish. Buttery fresh fish, sourced locally, meets with crunchy tempura, savory sauces, and refreshing veggies to pack a gustatory punch with every bite. Within the sushi bar, notice how the simplicity of wooden furniture and black-stone countertops enables the vibrant colors of Oma's fish and decadent sauces to stand center stage. Seated at the slate-colored bar, you can watch as chefs roll your Crunchy Shrimp roll, or torch the fish for your Fire Cooked Nigiri. If you're not in the mood for sushi, bite into soft and sweet shrimp bao buns, or slurp on warm and cozy chicken noodles. Vegetarians and vegans will find a variety of satisfying options to choose from, and those with a sweet-tooth will rejoice at Oma's chewy ice-cream filled mochi and rich Basque cheesecake. And of course, meals can be paired with a variety of beverages, including crisp Asian-inspired cocktails and cold Japanese beers.

22, Andrea Papandreou str., 210 9957.906
Remedi Pharmacy
A Sanctuary of Relaxation, Well-being, and Self-care in Hespirodon Square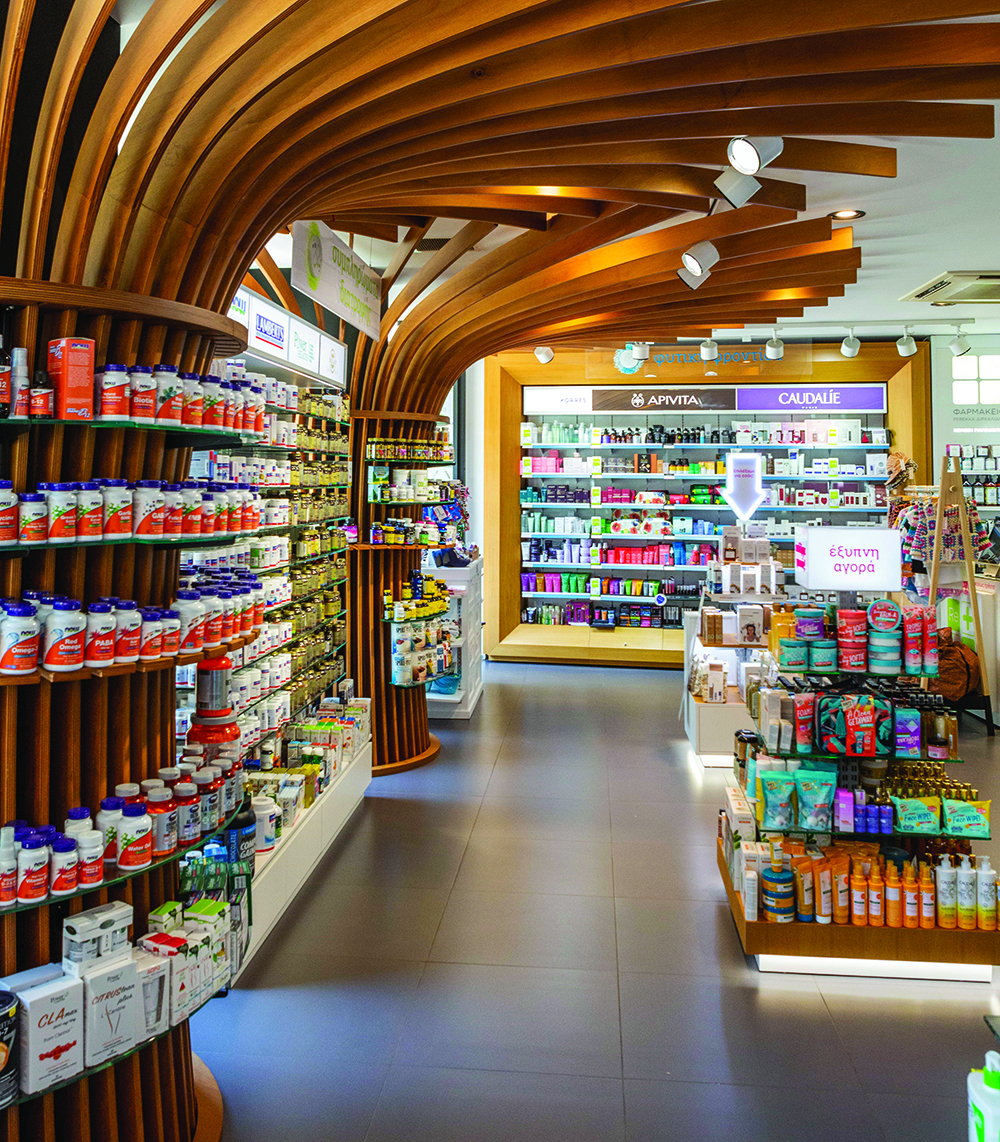 At Remedi Pharmacy, Medicine is as much about healing the body as it is about nourishing the soul. A trip to a pharmacy may seem like an ordinary outing, but Remedi combats the stereotypical pharmacy visits and is more reminiscent of an escape to a spa than a trivial trip to a pharmacy. Located in the center of Glyfada, in Hesperidin Square, Remedi has serenity-inducing aesthetic elements, a pleasant and modern space, fully in harmony with modern needs and promises to provide you with advice or to answer any and every question in matters of both health and beauty. Through the highly specialized staff, Remedi (as implied by its name) listens, responds, and remedies your every wearies in a way adapted to your personal needs. Remedi is more than just a pharmacy. It is the place where health is a holistic affair— where well-being, psychology, beauty, and customized care are at the forefront of Remedi's ethos. In the special skin expert section, you can peruse the plethora of skincare and cosmetic companies, innovative high-quality medical technology products, products for the care of hair, limbs, body, make-up, individual epidermal analysis as well as personal advice that will guide you in purchasing the right products. The highly-specialized staff at Remedi will provide solutions to even the most difficult problems. On the upper floor of the store, there is a specialized babycare, infant development, and infant nutrition section where new mothers can learn about breastfeeding, nutrition, and general knowledge about infancy and developmental stages. What's more, Remedy's special section of food supplements has a special place that will be your ally in every difficult and easy period and will strengthen your immunity to cope with the demands of everyday life. Remedi is also home to a carefully-crafted concept store where you can find gift suggestions for your loved ones. Perfumes, bags, accessories, you name it. And if the road doesn't take you to Glyfada, you can enjoy the shopping experience from the comfort of your own home with Remedi's updated online store. The online store operates non-stop, providing a variety of products at highly competitive prices as well as immediate service just as if you were in the physical store. Quickly pick up the individual sunscreen packages or the Green Remedi thermos mug that are among our favorites.
61, Cyprou str., 210 8943.438
Rialto
Chic All Day Café Bar and Staple Hangout Spot in Ilioupoli
As one of Ilioupoli's oldest all-day café bars, people young and old come from every corner of Athens to Rialto to experience its singularly cozy and chic ambiance (not to mention its sensational selection of food, coffees, and cocktails). With its stained-glass roof, ultra-sleek bar, and high ceilings, Rialto'a interior provides the perfect setting for a cozy-kick-back with friends or family. In the summer, Rialto's green courtyards are adorned with romantic lighting and comfortable sofas that invite you to relish every scrumptious minute of the day (or night, depending on what tickles your fancy!). Rialto's guiding philosophy, in addition to impeccable hospitality, entails the use of raw materials and fresh, locally sourced ingredients; It should come as no surprise then, that its unique variety of teas, drinks, and high-quality coffees come from carefully selected local farms. Whether you're in the market for a relaxed lunch break or a high-end dinner, Rialto is the ideal spot. With a wide array of Mediterranean flavors and an ever-updating menu, Rialto pushes the culinary envelope on the status quo of Mediterranean cuisine. Beyond culinary innovation, Rialto is the perfect place for a relaxing post-work drink due to its hand-selected wine and signature cocktails along with an atmosphere that marries sophistication with comfort. More than being a jazzy place to hang out, Rialto is an experience— one that you won't want to miss. And while you're at it, be sure to try Rialto's signature "Instagram Zombie Head" for a little taste of rum-infused magic.
4, Heroon Polytexniou str., 210 9958.764
Spourgiti (Sparrow)
Café by day, Bustling Bar by Night in Ilioupoli
Deep in the heart of Ilioupoli, nestled along the olive-tree-lined roads, you will find a quaint oasis on the corner with a rustic space, strong natural element, and special lighting that will transport you to a serene island getaway. Its minimalistic white Scandinavian decor is sure to instill a tranquil and meditative experience. At Sparrow, you define what relaxation and respite mean to you: whether enjoying an artistically-crafted cappuccino and diving into a good book or sipping a signature cocktail, Sparrow invites you to fly in whatever direction, at whatever speed you wish. Start your brunch with the number one must-try, Sparrow's avocado toast: the shocking open-face sandwich elegantly prepared with fresh avocado, boiled eggs, tomatoes that burst with sweetness and tang in equal measure, and chilly flakes, Sparrow's take on the classic avocado toast is an artisanal slice of heaven like no other. For the carnivores out there, we recommend the white baguette with pastrami, pecorino, and truffle mayonnaise, all with fresh bread from the "Terrible Child." If you're in the market for something a little sweeter, the open-face sandwich with hazelnut praline, honey, nuts, and seasonal fruits is as light as it is lovely. Dishes like the colorful quinoa salad, the delicious pizzas, the filling varieties of cold cuts and cheeses, with hard-to-find goodies exclusively from Greece - definitely try the soumak with mastiha - offer unforgettable taste experiences. Accompany your culinary flight to paradise with one of the refreshing cocktails they make in Sparrow, such as the Walking Dead Sparrow, with a delicious Gin (the premium Harahorn and Elephant Gin) or with the rare local wines from their cellar for a complete experience.
8, Distomou str., 210 0017.130
Story Streat
A Canteen No Other in Piraeus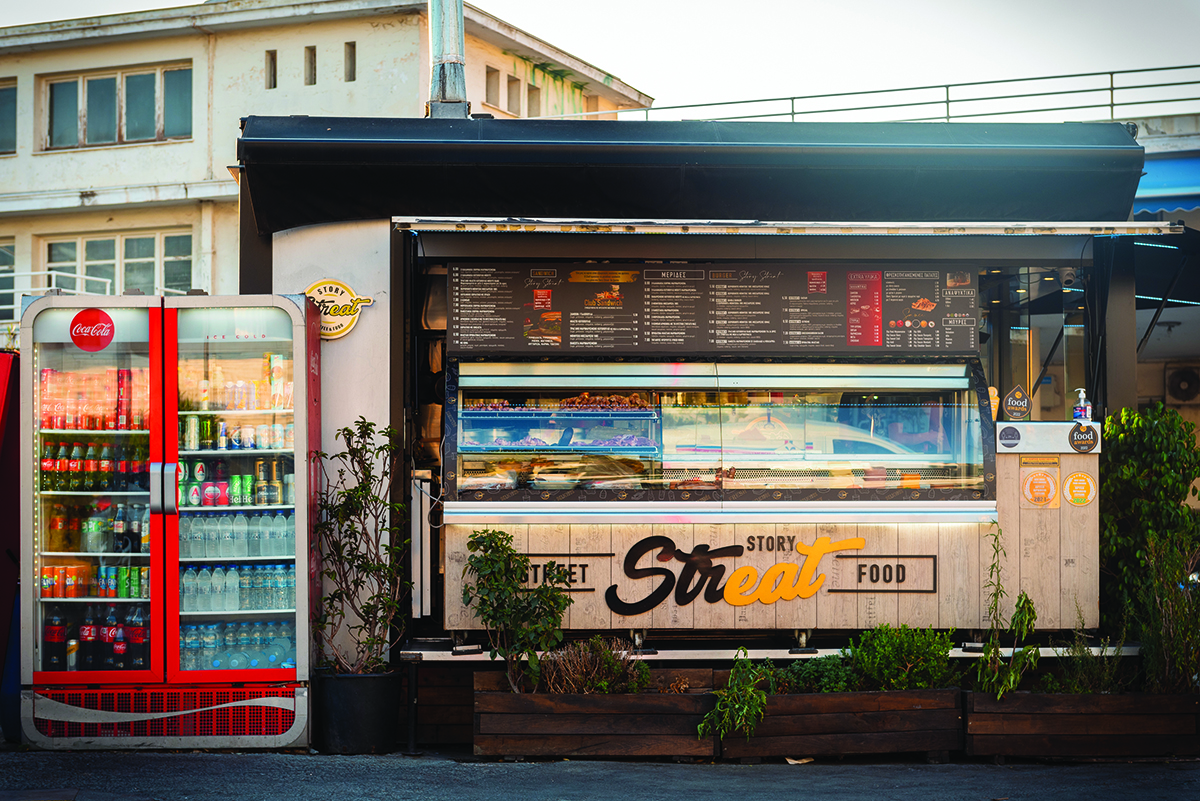 Story Streat is not your typical, run-of-the-mill canteen. Earning an award from the Panhellenic Institution of the Best Greek Food Awards, it's no wonder Story Streat has its very own fanatics. Famous for its extra-large, incredibly rich sandwiches and subs, Story street is something you have to experience to understand. A simple glance through the canteen windows will lead you to an illuminated and thoughtfully manicured array of fresh-cut meats. The meats arrive from a producer, are layed fresh in front of you, and are cooked to perfection by the time you've finished ordering. The canteen offers large sandwiches and club sandwiches to satiate your soul, juicy brioche-bunned-burgers to dream about for days, and a wide variety of delicious meats (everywhere from chicken and pork straws, steaks, Armenian kebab, to mutton filet). Perched on the waterfront of Piraeus, just along the Athenian riviera, Story Streat has a stellar location. In addition to a great location and mouth-watering food, Story Streat's hours make it the special late-night canteen we know and love (5:00 AM on weekdays, 6:00 AM on Fridays, and 7:00 AM on Saturdays!). If you should embark on the spiritual journey of a late-night run to Story Streat (or if you fancy yourself a little evening street food), be sure to try the pancetta sandwich and Pork Steak sandwich marinated in their very own secret recipe of sheer delight, also colloquially known as "Story Sauce" (pro tip: if you find yourself frolicking out and about at late hours and don't want an entire meal but could go for a hearty snack, the fries smothered in Story Sauce make for the perfect post-night-out snack). Last but certainly not least, a Story Streat rendezvous would not be complete without trying the kebab. As any loyal Story Streater would tell you, their pièce de résistance is their Armenian Kebab. The blend of spices, tenderized meat that melts in the mouth and nourishes the soul, and crisp outside is a Kebab more waiting in line for. It is also worth noting that everything from sauces to burgers to kebabs is made here. Even the bread is handmade! As any sandwich aficionado would know, bread can make or break a sandwich, and in this case, the bread makes the sandwich something simply sublime. The dough comes from a gluten-free recipe created by the Story Streat team, then into the oven it goes, only to emerge as a fluffy cloud of gustatory delight.
Akti Miaouli, 210 0107.239
The Superdrinks
The New Immune-Boosting Soft Drink to Kick-off Summer with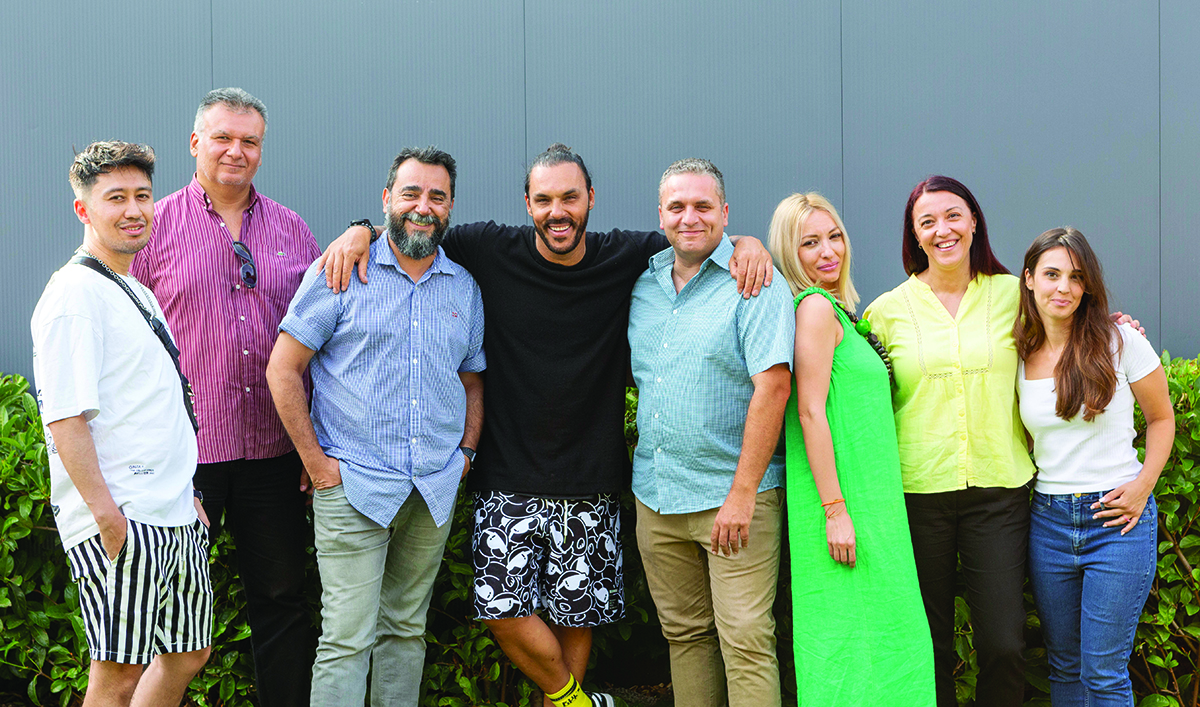 Summer is officially in swing, and festivals and concerts are already in motion, but the question remains, have you tried The Superdrinks yet? Founder & CEO, Haris Vranas, and Giorgos Patrikianos, Sales Manager of the company "ANAFIS M.EPE", developed a department of functional foods and drinks under the title The Superdrinks. Apart from the scrumptious and refreshing enjoyment they offer, this new category of natural soft drinks provides an abundance of health benefits, namely, probiotics, vitamins, and trace elements. Their main product is Kombucha, the number one trend in the US, Canada, and Australia. The company has the pleasure of representing some of the top Greek and Cypriot brands. The Superdrinks represent VIGO Kombucha (a pasteurized kombucha rich in probiotics that comes in 3 different versions: light fermentation, long fermentation, and wellness shots) Laesk Kombucha (an organic, unpasteurized kombucha, with a low caloric index and 1 billion probiotics), and, as of February '22 (when it launched on the Greek Market), Punk Rabbit Kombucha, a brand that has revolutionized the field of fermented beverages. With 100% natural ingredients, no added sugar, and over 1 billion probiotics, Punk Rabbit Kombucha comes in 4 distinct flavors that pair perfectly with the hot summer sun. Crack open a cold Mango & Passion Fruit and Pineapple & Peach for a fruity burst of flavor and immunity, or venture into more of their unique realms of flavor with the Rhubarb and Hops flavored Kombuchas. If you're a coffee addict looking to restore any harm done to your gut, Superdrink's cast array of kombucha fermented in cold brew coffee will give you the solution you are looking for. And for those who can't resist a good old-fashioned cocktail, Punk Rabbit is also taking a dip into the pool of mixed drinks. With 5% natural alcohol from fermentation, Punk Rabbit Kombucha offers you a sugar-free, low-calorie Hard Kombucha series with Guava and Passion Fruit flavors to quench your thirst. Superdrinks can be found in premium areas of Athens as well as in top travel destinations in Greece, such as Mykonos, Santorini, Rhodes, selected supermarkets, and hotels, as well as important sporting events. Delicious, immune-boosting, and refreshing sips of heaven, Superdrinks have the taste you want from summer.

23, Londou str., 216 0704.354
Varoulko Seaside
A Michelin-starred gastronomic experience in Southern Athens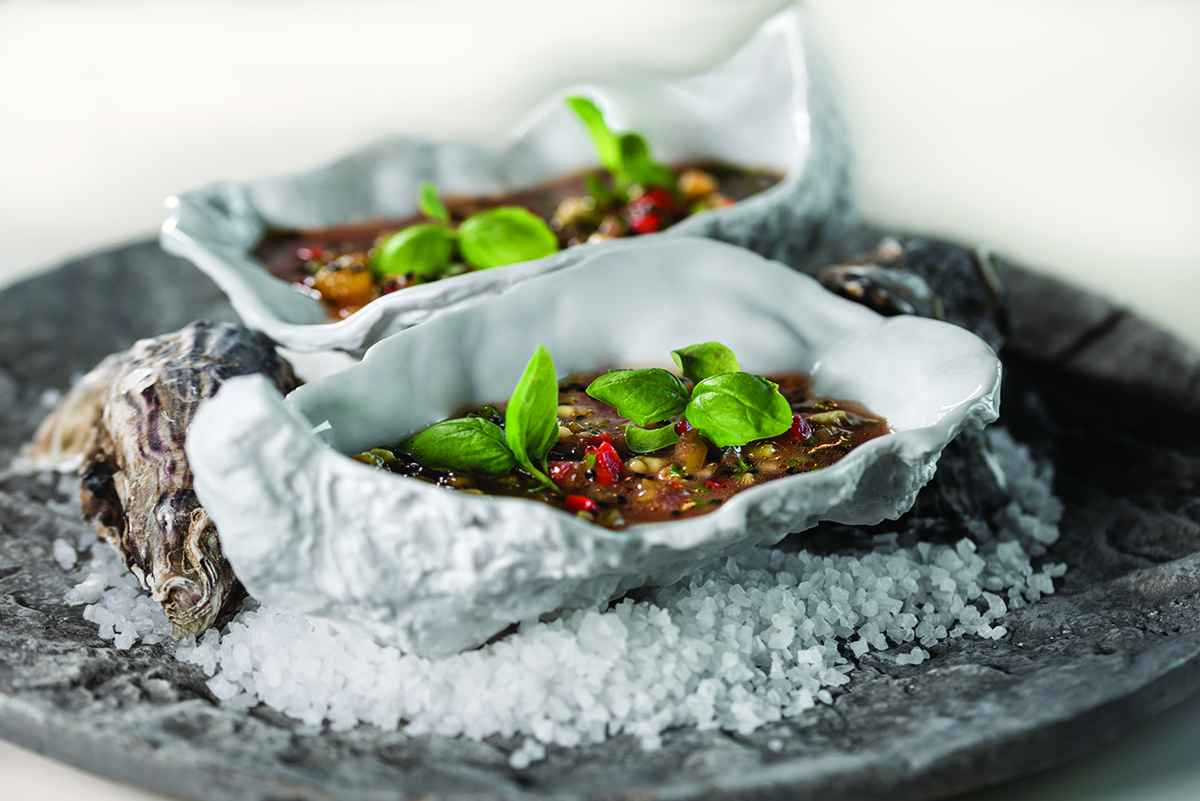 Along the coast of Piraeus, quaint sailboats rock calmly, swayed by the natural rhythm of the sea. Gulls soar the skies, their bodies dark shadows against the orange and pink hues of the setting Mediterranean sun. And upon the rooftop deck of Varoulko Seaside, the sizzling of fish, clattering of silverware, and murmuring of romantic words across white tablecloths adds a uniquely sensory dimension to this pristine image. It is impossible to recommend any single dish at chef Lefteris Lazarou's restaurant. Every ingredient is rich in quality, and every plate has been designed to showcase the incredible freshness and flavor of its seafood components. Varoulko Seaside was awarded its first Michelin star in 2002, and has maintained it to this day. Lazarou's handle over different flavors and textures is irrefutable; his menu is exclusively exceptional. Come to Varoulko once, and you'll want to come a hundred times more, if only to experience the entirety of the restaurant's menu. As the incredible array of dishes is sure to induce indecision, we suggest you begin your gustatory experience by trying the crispy dorada filets, served on sourdough with smooth pea puree, a decadent smoked eggplant mousse, and fresh tomato-carrot jam. The squid with Genovese pesto, one of Lazarou's most famed dishes, is also a must-try. A list of over 250 different wines, procured by Varoulko's own sommelier, will ensure that you pair your meal with the best glass of wine. Or, decide to enjoy your meal with fine spirits, personally chosen by the chef to compliment his dishes perfectly. Extra Tip: If you find yourself in Santorini, head to the Grace Hotel and dine at Varoulko Santorini, where all of Lazarou's signature dishes are served alongside breathtaking, birdseye views of the turquoise sea.
52, Akti Koumoundourou str., 210 5228.400